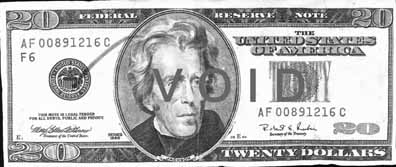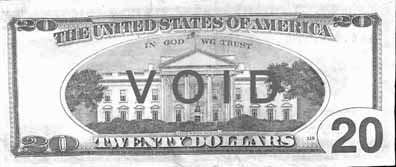 BOGUS BILLS — Big Island police are warning residents that counterfeit $20 and $50 bills are circulating throughout the Big Island. The bogus bills are easiest to determine by holding the front of it to the light. The counterfeit bills lack a magnetic stripe on the left side the the watermark of the engraving of the president on the right.
HAWAII COUNTY POLICE DEPARTMENT
HILO CRIMINAL INVESTIGATION SECTION
LIEUTENANT DEREK D. PACHECO
PHONE: 961-2252
MEDIA RELEASE
Police are warning residents again to watch for counterfeit $50 and $20 bills are being circulated around the Big Island.
Last week alone, more than 25 of the bogus bills were passed at a number of retail establishments in Hilo.
The bills first appeared during the first week of the month in Kona, but since then have been circulated islandwide.
The bills are distinguishable from legitimate U.S. in several ways.
Perhaps the easiest way of determining whether a $20 or $50 bill is counterfeit is to hold it up to the light with the engraving of the president facing you. The counterfeit bills have no magnetic strip, or security thread, running down the left or a watermark of the engraving on the right. The numerals 50 or 20 on the lower right front also does not turn from green to black as the bill is shifted on its horizontal axis in the light.
The counterfeit bills also have a yellowish tinge to them and have no red and blue threads embedded in them. The bogus $50 bill does not have the words "The United States of America" on the collar of the portrait of President Ulysses S. Grant. The bogus $20 bill doesn't have the same words on the lower oval framing of President Andrew Jackson's portrait.
Police advise residents who are passed a counterfeit bill not to confront the person who passed it, but instead to hold the bill and call the police. Victims are asked to try to remember the name or description of who gave them received the bill and where they received it.
Anyone with information about the counterfeit scheme or anyone who receives a counterfeit bill should call the police non-emergency number at 935-3311 or the Kona police station at 326-4646.
Those who wish to remain anonymous may call Crime Stoppers at 961-8300 in Hilo or 329-8181 in Kona. The numbers are answered 24 hours a day. Callers will be given a coded number and their identity will remain anonymous. Callers may be eligible for a reward of up to $1,000 if their call leads to an arrest, indictment or the recovery of property. Crime Stoppers neither subscribes to "Caller ID," nor does it record phone calls.
# # #

Print This Post