HAWAII COUNTY POLICE DEPARTMENT
OFFICE OF THE POLICE CHIEF
PHONE: 961-2244
JUNE 6, 2002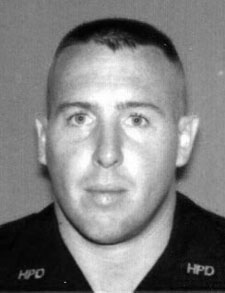 OFFICER JOHN WEBER
…'Officer of the Month'
MEDIA RELEASE
The Aloha Exchange Club of East Hawaii has honored Puna Patrolman John Weber as its Officer of the Month for May 2002 for diligence that turned a routine traffic stop into a major drug bust.
The club presented the award to Weber at its general membership meeting held Thursday (June 6, 2002) at the Hilo Bay Hotel.
First joining the department as a dispatcher in December 1996, Weber has been assigned to the Puna Patrol District since July 1999.
He was recognized for his diligence in making an arrest that resulted in the seizure of 12.6 ounces of crystal methamphetamine, or "ice," and more than $26,000 in cash.
On May 22, 2002, Weber was on patrol when he made a traffic stop for a stop sign violation shortly before 1:30 a.m. in Hawaiian Paradise Park.
On approaching the car, however, Weber saw a glass pipe he recognized as the kind used to smoke crystal methamphetamine sticking up out of the driver's shirt pocket.
When asked to step out of the car, the driver became uncooperative and threw the pipe into the bushes beside the road before Weber could seize it. The driver and Weber then struggled, but Weber was able to gain physical control of the driver until back-up officers arrived.
The officers then searched the area and recovered the pipe as well as several packets of what later were determined to be crystal methamphetamine.
Weber seized the car and obtained a search warrant, which resulted in the recovery of the illegal drug and cash.
# # #

Print This Post