HAWAII POLICE DEPARTMENT
CRIMINAL INVESTIGATIONS SECTION
LIEUTENANT RANDALL MEDEIROS
PHONE: 961-2252
OCTOBER 27, 2006
REPORT NO. C06029898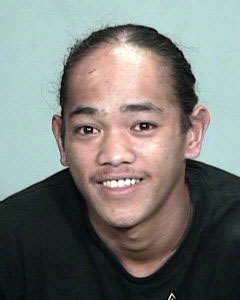 MEDIA RELEASE
Big Island police have charged a 19-year-old man in connection with a robbery reported in >>Hilo>> Sunday evening (October 22). Detectives charged Albert L. Kahuena with second-degree robbery Friday morning (October 27).
On Sunday night, residents from a >>Maile Street>> apartment complex reported that a 17-year-old male had been beaten by two unknown assailants just after 8 p.m. The victim told police that he was not familiar with the suspects and that they choked and beat him and removed several items from his pockets during the assault. The victim was taken to the >>Hilo> >Medical> >Center>> emergency room, where he was treated for his injuries and later released.
Detectives assigned to the Police Department's Criminal Investigations Section continued the investigation and arrested Kahuena on Wednesday (October 25, 2006). At the time, he was already in police custody for an unrelated robbery Monday (October 23) on >>Kapiolani Street>> in >>Hilo>>. Detectives noticed similarities in the method of operation or "M.O." by the suspects in both robberies.
The >>Kapiolani Street>> robbery involved several males attacking two juvenile males and taking their belongings. The victims in that robbery were injured but did not require medical attention.
Kahuena was arrested in connection with that robbery Monday afternoon, along with 18-year-old Alan Pasa and a 17-year-old boy. The juvenile was taken to a detention facility on >Oahu> for an unrelated family court matter.
Pasa and Kahuena were released pending further investigation of the >>Kapiolani Street>> robbery. Detectives then immediately arrested Kahuena for the >>Maile street>> robbery.
The investigation that followed led to Friday's charges against Kahuena for the >>Maile street>> robbery. His bail was set at $5,000.
# # #

Print This Post