HAWAII POLICE DEPARTMENT
CRIMINAL INVESTIGATIONS SECTION
LIEUTENANT RANDALL MEDEIROS
PHONE: 961-2252
NOVEMBER 3, 2006
REPORT NO. C06034338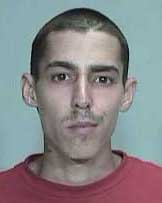 MEDIA RELEASE
An autopsy conducted Friday (November 3, 2006) on the body of a woman found Thursday determined that the cause of death was penetrating gunshot wound to the head and brain.
At 6:30 p.m. Friday , detectives from the Criminal Investigations Section charged Jeffrey B. Santos Jr. with second-degree murder in connection with her death. Santos was also charged with use of a firearm in the commission of a felony, ownership or possession of a prohibited firearm, violating a protective order and second-degree arson.
The killing was reported to have occurred Wednesday afternoon (November 1, 2006) in the Panaewa rain forest area.
Hilo detectives arrested Santos on Thursday afternoon while he was in custody for violating a restraining order.
The victim has not yet been positively identified. Police have enlisted the assistance of a forensic odontologist to confirm her identity through dental records.
Santos is being held at the Hilo police cellblock on $100,000 bail pending an initial court appearance scheduled for Monday.
# # #

Print This Post