HAWAII COUNTY POLICE DEPARTMENT
KONA CRIMINAL INVESTIGATION SECTION
DETECTIVE JUERGEN L. CANDA
PHONE: 326-3080
JUNE 26, 2003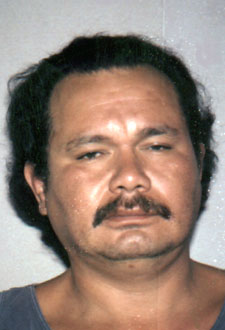 GUY THOMAS RIVERA
…sought in shooting incident
MEDIA RELEASE
Big Island police have requested the public's help in finding a 40-year-old Kona man wanted for allegedly firing a rifle at a vehicle in Holualoa, North Kona.
The suspect was identified as Guy Thomas Rivera, of a Holualoa address.
Rivera allegedly fired two rifle shots at a vehicle on Thursday, June 19, 2003. He is also wanted on an outstanding warrant for contempt.
The suspect, also known as "Pake," is described as being a local male, being 5-foot-6 in height, weighing about 200 pounds and having brown eyes, black hair and a black moustache.
Police said the suspect should be considered armed and dangerous.
Anyone with information about his whereabouts is asked to call Detective Juergen L. Canda of the Kona Criminal Investigation Section at 326-4230 or the police non-emergency number at 935-3311.
Those who wish to remain anonymous may call Crime Stoppers at 961-8300 in Hilo or 329-8181 in Kona. All Crime Stoppers information is kept strictly confidential.
# # #

Print This Post