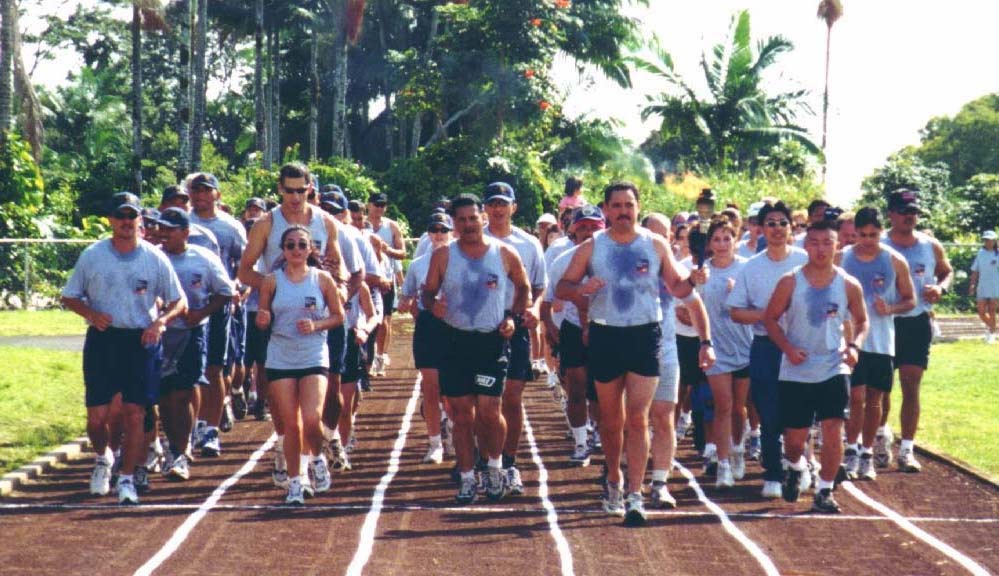 END OF RUN — Major Morton A. Carter of the Hawaii County Police Department (front, fourth from left) leads runners on a lap around the Hilo High School track just before the start of the Special Olympics track and field area games.
HAWAII COUNTY POLICE DEPARTMENT
349 KAPIOLANI STREET
HILO, HAWAII 96720
PHONE: 961-2346
APRIL 19, 2000
MEDIA RELEASE
Big Island police raised nearly $8,000 to benefit Special Olympics Hawaii through their annual First Hawaiian Bank Troy Barboza Law Enforcement Torch Runs held recently in Hilo and Kona.
This year's Torch Runs marked the Hawaii County Police Department's 10th year of participation in the event.
In Kona, a two-mile run preceded the Special Olympics swim meet on March 25, and in Hilo, a 2.3-mile run and one-mile walk was held on April 15 just before the Special Olympics track and field competitions.
The torch runs held in Hawaii take place on each island and are named in memory of Honolulu Police Officer Troy Barboza, who was a dedicated coach for Special Olympics during his spare time.
Among those joining the Police Department at this year's Torch Runs were the Office of the Prosecuting Attorney, Hawaii Community Correctional Center, Department of Land and Natural Resources, Drug Enforcement Administration, Pohakuloa Training Area Police, Hawaii Army National Guard and friends, families and supporters of Special Olympics Hawaii.
# # #

Print This Post