Hawai'i Police Department
Area II Criminal Investigation Section
Lieutenant Michael Hardie
Phone: (808) 326-4646, Ext 266
Report No.: 23-089602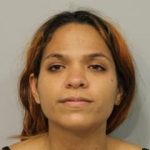 Media Release
Hawaiʻi Island police report that 32-year-old Kira Lazar of Ocean View, who was previously wanted for questioning in two criminal investigations, was located in the Kona area on Friday, September 29, 2023, and was subsequently interviewed by detectives with Hawai'i Police Department's Area II Criminal Investigation Section.
Both investigations are ongoing at this time and upon completion, will be forwarded to the Office of the Prosecuting Attorney to be reviewed.
The Hawai'i Police Department thanks the public for their assistance.

Print This Post