HAWAII COUNTY POLICE DEPARTMENT
HILO CRIMINAL INVESTIGATION DIVISION
DETECTIVE RICHARD A. MIYAMOTO
PHONE: 961-2381
JUNE 1, 2002
H-09382
MURDER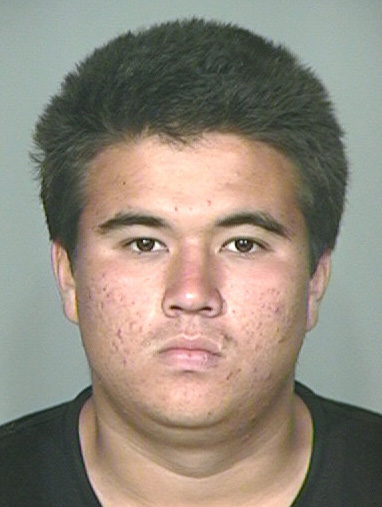 JOHN McGOVERN
…arrested for two counts of murder
MEDIA RELEASE
Big Island police have arrested an 18-year-old male suspect on two counts of murder.
The suspect was identified as John McGovern, of no permanent address.
McGovern, who was being held at the Kona police cellblock pending further investigation, was arrested at 12:35 p.m. Saturday (June 1, 2002) on Alii Drive.
McGovern was sought after police found the bodies of two males in the Fern Acres subdivision of Puna who died of gunshot wounds.
The decomposed bodies could not be identified immediately, but Hilo Criminal Investigation Section detectives believe they may be those of two men who were reported missing under unusual circumstances earlier in May.
The bodies were found Thursday afternoon (May 30, 2002) off Lehua Street in the Puna subdivision.
Preliminary autopsy results determined that both had died of gunshot wounds to the head.
The bodies are believed to be those of two men — identified as Cassidy M. Toole, 20, of a Fern Acres address, and Wesley Alan Matheson, also 20, his roommate. Toole was last seen about 7 a.m. on May 8, 2002, hitchhiking with another man near the scene of a single-car accident in Ka'u.
Police had issued several public appeals for information about the whereabouts of the two men.
Toole is believed to have been in a black 2001 Honda Civic LX two-door sedan, which ran off the road and into a ditch near the 70-mile marker of Mamalahoa Highway (Route 11) in the South Point area.
Toole and another man apparently left the car in the ditch and were seen being picked up by a red sedan as they were hitchhiking along the highway.
Neither man had been seen or heard from since.
# # #

Print This Post