Hawai'i Police Department
Juvenile Aid Section – Area I
Lieutenant Robert P. Pauole
Phone: (808) 961-2254
Report No.: 23-050989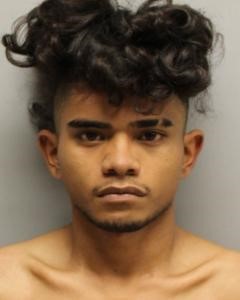 Media Release
Hawai'i Island police have arrested and charged 20-year-old Jeranimo Talley with domestic related offenses following an incident in Hilo just before noon on Thursday, May 25, 2023.
On Friday morning, May 26, 2023, after conferring with County Prosecutors, detectives charged Talley with the following offenses:
first degree assault
two counts of abuse family household member
first degree unlawful imprisonment
second degree terroristic threatening
third degree criminal property damage
Talley was also arrested on two outstanding warrants for violating conditions of release while on bail. His total bail for all offenses was set at $42,000.
The recent charges against Talley stem from an incident that occurred Thursday, May 25, 2023, at approximately 11:47 a.m., when South Hilo patrol officers responded to an active domestic at an apartment complex on West Lanikaula Street in Hilo. Upon arrival, officers determined that a physical domestic occurred between Talley and his girlfriend where he reportedly locked the door to their bedroom and began to punch her with a closed fist, and kick her head and facial area. Talley also reportedly threatened to kill the victim and damaged her cellphone during the incident.
The victim was transported to the Hilo Medical Center in stable condition where it was determined that she sustained substantial injuries to her mouth resulting in potential permanent disfigurement. She was treated and released the same day.
Talley's initial court appearance is scheduled for Tuesday afternoon, May 30, in Hilo District Court.
Police ask anyone who may have witnessed this incident to contact Detective Clarence Acob of the Area I Juvenile Aid Section, at (808) 961-8839, or via email at clarence.acob@hawaiicounty.gov.

Print This Post