Hawai'i Police Department
South Kohala Patrol
Officer Kiley Loo
Phone: (808)-887-3080
Report No.: 23-083802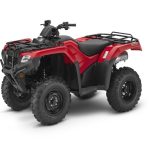 Media Release
Hawai'i Island police are investigating the report of a stolen 4×4 all-terrain vehicle (ATV) that occurred some time between Thursday, August 31, 2023, and Friday, September 1, 2023, from the area of Mana Road in Waimea.
The ATV is described as a Red Honda Rancher 420 with the letter "P" cow branded on both sides of the vehicle's fender, a "bull head logo" cow branded on both sides of the gas tank, and the number "138" etched on top of the gas tank. The estimated value of the ATV is $9,000.
Police ask anyone with information relative to this case to call the police department's non-emergency line at (808) 935-3311 or email Officer Kiley Loo at Kiley.loo@hawaiicounty.gov.
Tipsters who prefer to remain anonymous may call Crime Stoppers at (808) 961-8300. All Crime Stoppers information is kept confidential.

Print This Post