Hawai'i Police Department
Juvenile Aid Section – Area I
Lieutenant Robert P. Pauole
Phone: (808) 961-2254
Report Nos.: 23-087609 and 23-087612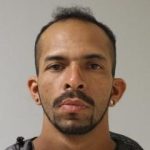 Media Release
Hawai'i Island police have arrested and charged a 31-year-old Kea'au man with numerous offenses stemming from a domestic incident and a traffic related incident that occurred on Ainaloa Drive on Tuesday evening, September 12, 2023.
Around 9:45 p.m. on Tuesday, Puna patrol officers were dispatched to an active domestic within a light-colored extra cab Toyota Tacoma. The female victim was yelling for help and stating she was being kidnapped. As officers approached Ainaloa Drive, a Toyota Tacoma truck was seen turning in the north direction onto Highway 130 from Ainaloa Drive at a high rate of speed. Officers attempted to stop the vehicle, but the vehicle continued to drive in an aggressive manner at a high-rate of speed. Due to the driver's actions and the disregard of public safety, officers did not initiate a pursuit.
Officers contacted the female victim on Ainaloa Drive and witnesses in the area where they identified Daniel Gray Lewis Jr. as the suspect in the domestic and traffic related offenses.
On Wednesday morning, Lewis was arrested without incident and transported to the Pahoa Police Station while Area I Juvenile Aid Section detectives continued their investigation.
After conferring with the County Prosecutor's Office, Lewis was charged on Thursday evening, September 14, with the following offenses:
Kidnapping
First degree terroristic threatening
Felony abuse family household member (aggravated strangulation)
Two counts of misdemeanor abuse family household member
Resist an order to stop a motor vehicle
Excessive speeding 81+
Reckless driving
Lewis was also arrested and charged for four outstanding warrants for arrest. His bail for all offenses and the warrants is $87,850.
Lewis is being held at the Hawaii Community Correctional Center pending his initial court hearing scheduled on Friday, September 15, in Hilo District Court.
Anyone with information about this case is encouraged to contact Detective Patrick Aurello at (808) 961-8810 or via email at patrick.aurello@hawaiicounty.gov.

Print This Post