Hawai'i Police Department
Area I Criminal Investigation Division
Captain Rio Amon-Wilkins
Phone: (808) 961-2251
Report No.: 23-049866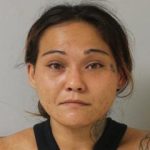 Media Release (Update #2)
Hawai'i Island police continue searching for missing 29-year-old opihi picker, Shanice Ogata-Staudinger, of Pāhoa.
On the morning of Sunday, July 9, 2023, Ogata-Staudinger was reportedly picking opihi with a relative in the area of Kahakai Boulevard and Papio Street in Pahoa, at a spot commonly known as "Hau Bush."
Ogata-Staudinger became separated from her relative and failed to return to their prearranged meeting spot later that afternoon.
Emergency personnel conducted an extensive area search, including police with a scent discriminating canine, the Hawai'i Fire Department's helicopter, and the United States Coast Guard, however, Ogata-Staudinger was not located.
Ogata-Staudinger is described as local with a medium build, 5 feet 2 inches tall, 150 pounds, with brown hair and hazel eyes. She was last seen wearing a black tank top, blue jeans, and purple tabis water shoes. She has a dollar sign symbol tattoo on her left cheek.
Police ask anyone who may have any information on the whereabouts of Ogata-Staudinger to contact the police department's non-emergency line at (808) 935-3311.

Print This Post