Hawai'i Police Department
Area I Criminal Investigative Section
Detective Zenas Pacheco
Phone: (808) 961-2384
Report No.: 23-057091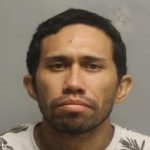 Media Release
Hawai'i Island police have located and arrested 33-year-old Brenton K. Agsalda of Puna, for an outstanding felony warrant and questioning for a criminal investigation.
On Thursday, September 28, 2023, at approximately 2:05 a.m., Puna patrol officers conducted a traffic stop on a silver Chevrolet four-door sedan near the intersection of Kahakai Boulevard and Aku Street intersection in Pāhoa. Agsalda was a passenger in the vehicle and upon conducting a warrant check on Agsalda, officers discovered he had an outstanding felony warrant for second-degree theft.
Agsalda was arrested and transported to the East Hawai'i Detention Center as members of the Area I Criminal Investigation Section continued the investigation.
Later Thursday morning at 8:15 a.m., after conferring with the County Prosecutor's Office, police charged Agsalda with second-degree theft and his bail was set at $2,000.
The Hawai'i Police Department would like to thank the public for their assistance in locating Agsalda.

Print This Post