HAWAII COUNTY POLICE DEPARTMENT
SOUTH HILO COMMUNITY POLICING TEAM
OFFICER RICHARD B. TOLEDO
PHONE: 961-2350
MAY 23, 2001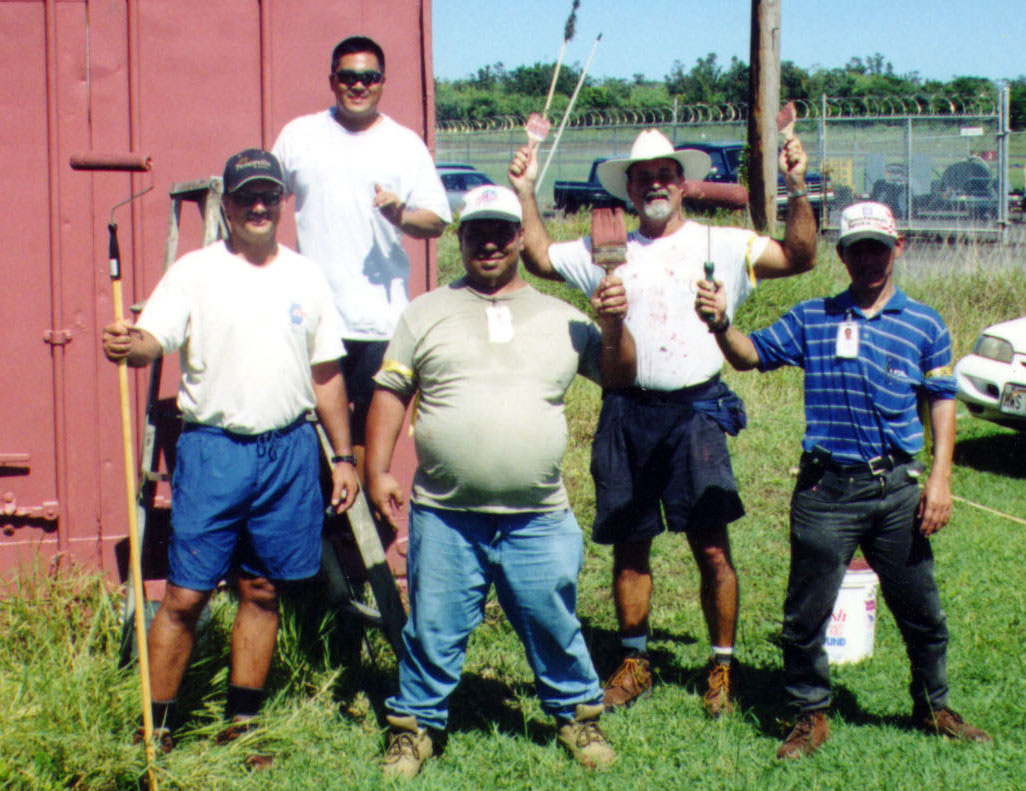 CLEANING UP HILO – The Aina Keepers have struck another blow against vandalism by painting over a graffiti-ridden shipping container at Hualani Street and Kanoelehua Avenue. Shown here are Hilo Community Police Officers Richard Toledo, left, and John Pagay, and Aina Keepers Mark Tellio, Taj Gunter and Derek Lopez.
MEDIA RELEASE
The Aina Keepers of Goodwill Industries have done it again.
They took another bite out of vandalism by painting over a graffiti-ridden shipping container Tuesday (May 22, 2001) at the corner of Hualani Street (Old Airport Road) and Kanoelehua Avenue which had been an eyesore for several months.
The Aina Keepers, directed by Taj Gunter and assisted by Derek Lopez and Mark Tellio, have taken a stand against graffiti in the Hilo area. They've had projects at Kaumana Caves, Kaumana Cities water tank and the flood control canal near Kapiolani School.
Working with the Hawaii County Police Department and businesses such as HPM Building Supply, which donated the paint for the container project, the group stands ready to take on another project.
Anyone interested in donating their time or supplies to the Aina Keepers can call Gunter at Goodwill Industries, 961-0307, or the South Hilo Community Policing Team at 961-2350 for more information.
# # #

Print This Post