HAWAII POLICE DEPARTMENT
CRIMINAL INVESTIGATIONS DIVISION, AREA II
CAPTAIN ROBERT HICKCOX
PHONE: 326-4646, EXT. 263
DECEMBER 26, 2006
REPORT NO. C06040211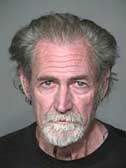 MEDIA RELEASE (UPDATE)
Detectives from the West Hawaii Criminal Investigations Section arrested 65-year-old James McKenzie of Opihihale Tuesday (December 26) and charged him with attempted murder for allegedly shooting at his son on Christmas Eve.
McKenzie was also charged with first-degree reckless endangering and with first-degree theft for allegedly using a stolen firearm. He is being held at the Kona police cellblock in lieu of $57,000 bail pending his initial court appearance.
On Sunday, December 24, at about 5:15 p.m., police and fire rescue units were summoned to the area by a 33-year-old resident who reported that he had been in an argument with a family member that escalated into gunshots being fired at him at close range. The victim did not sustain any gunshot wounds but did receive minor blast and burn marks to his arms. He was treated for his injuries at the scene and released.
The suspect left the area before police arrived. He was located in Kealakekua about an hour later.
# # #

Print This Post