Hawaii Police Department
Community Policing
Lieutenant Andrew Burian
Phone: 961-2350
May 13, 2008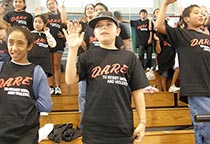 Media Release
Approximately 1,000 elementary and middle school students on the Big Island took the DARE pledge to remain drug free for life during DARE Day 2008 ceremonies in Hilo and Kona this week. The two-and-a-half-hour programs came at the conclusion of 10 weeks of instruction in Drug Abuse Resistance Education, taught by School Resource Officers and Community Police Officers around the island of Hawaii.
During the Hilo ceremony at the Afook-Chinen Civic Auditorium on Monday (May 12), Hawaii County Police Officers staged a mock crime to demonstrate how a dog under the control of an officer from the Vice Section can sniff out drugs and how the Special Response Team takes charge in a crisis. In the staged scenario, a Community Policing Officer played the role of a drug dealer carrying a duffel bag containing marijuana. The dog alerted police to the drugs in the bag. When police responded, the make-believe drug dealer took a hostage into a tent representing a house. The SRT team then arrived and rescued the woman.
"That was cool," one student said when the drama ended.
The program also featured entertainment by talented student gymnasts and singers, a special appearance by Derek Kurisu and Mountain Apple Man from the TV show "Living in Paradise" and contests such as tug-of-rope and "Darren the Lion Says," which is similar to the old "Simon Says" game that requires concentration and the ability to follow directions.
A similar event was held Tuesday (May 13) at the Kekuaokalani gym in Kailua-Kona.
DARE Days 2008 was part of Police Week, a nationally recognized week of activities in support of police work and in recognition of officers who have died or been disabled in the line of duty.
---

Print This Post