HAWAII POLICE DEPARTMENT
OFFICE OF THE CHIEF
LAWRENCE K. MAHUNA
PHONE: 961-2244
JUNE 16, 2006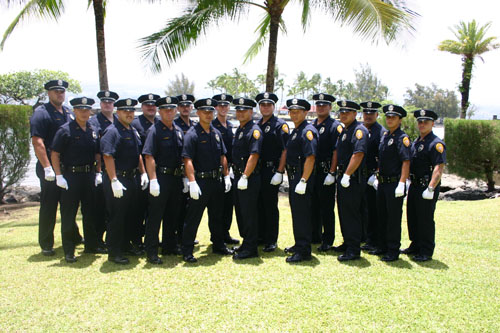 MEDIA RELEASE
Seventeen members of the Hawaii County Police Department's 67th Recruit Class graduated Thursday (June 15, 2006) during ceremonies held at the Hilo Hawaiian Hotel.
The police graduates, who underwent six-and-a-half months of intensive training, will now undergo nine more weeks of on-the-job field training after being assigned to veteran police officers.
During luncheon ceremonies, County Council Chairman Stacy Higa thanked the graduating recruits for completing the first part of their training. He joked that police work is a thankless job — "something like being on the County Council."
Police Commission chairwoman Kathleen "Pudding" Lassiter told a story about God creating police officers. It required six pair of hands and three pair of eyes, she said.
Chief Lawrence K. Mahuna said members of the Police Department are "truly peace officers" and not just police officers. "The only defense between anarchy and a community that is viable is a good police department," he said.
The chief urged the recruits to keep committed to the department's core values, mission statement and vision statement. "Make sure that they are embedded in your hearts," he said.
Clinton Lewe Song, president of the recruit class, said the recruits became close during their training and learned to work as a single unit. He told their families that they will keep each other safe from harm. "Because we are now all members of the blue family, we watch each other's backs," he said.
Mayor Harry Kim was the keynote speaker. He said he got to know the recruits at the South Hilo station's weight room. "This is a special class," he said. "You can see the sense of pride in these people."
Describing the respect the officers showed to the cleaning crew from the Arc of Hilo, Kim said he senses a "special caring" in this class of recruits. "Don't ever lose that," he told them.
The mayor urged the public not to forget that a police officer is a person. "Tell them thank you every chance you get," he said "because they are there for us."
Three of the graduates received special recognition for their excellence in training. They were Robert Keffer, who excelled in academic training, Mike Thompson, who excelled in firearms training, and Joseph Stender, who excelled in physical fitness training.
# # #

Print This Post