HAWAII POLICE DEPARTMENT
COMMUNITY POLICING
LIEUTENANT JAMES SANBORN
PHONE: 961-2350
JULY 17, 2006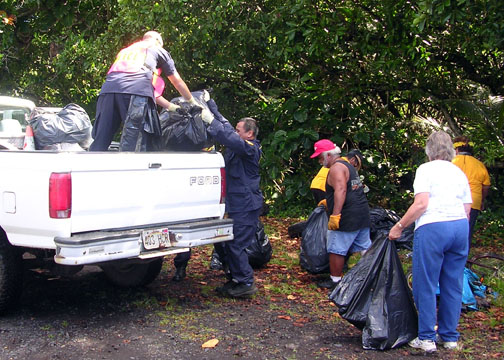 MEDIA RELEASE
Seven members of the Hawaii Police Department spent two hours Sunday morning (July 16, 2006) picking up rubbish in lower Puna. By the time they were done, they'd gathered half a truckload from the road above >>Kehena> >Beach>> and another overflowing truckload from the Pohoiki boat ramp area.
The activity was an example of community police officers' attempts to work with the public to find new ways of solving problems together.
"It wasn't about the amount of trash we picked up," said Puna Community Police Officer John Briski. "It was about showing people that we're people and we're here to help."
The other officers who participated were Sherwin Taka, Kimo Siemann, Shawn Tingle, Greg Yamada, Lt. James Sanborn, who heads community policing, and Puna Capt. Steve Guillermo. Two officers from the state Department of Land and Natural Resources, Wade Young and John Holley, also helped, along with about two dozen community volunteers.
# # #

Print This Post