HAWAII POLICE DEPARTMENT
HILO CRIMINAL INVESTIGATION DIVISION
CAPTAIN CHADWICK FUKUI
PHONE: 961-2251
JUNE 27, 2005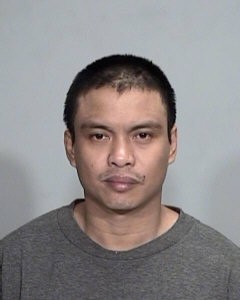 MEDIA UPDATE
Big Island police arrested one of the inmates who escaped last week Tuesday (June 21, 2005) from the Hawaii Community Correctional Center on Punahele Street in Hilo.
Ludy L. Lazo, 35, was arrested at Anderton Camp, Papaikou, early Sunday morning (June 27, 2005) after he turned himself in to the police. The arrest was made without incident. Lazo was charged with Escape, Second Degree, a Class C felony, and held on $50.000.00 bail.
Lazo and a second inmate, Kyle Quilausing, 31, escaped from the facility by tying bed sheets together, climbing up about 18 feet, and escaping through a window in the sunroof area of the facility. Both escapees were last seen heading down Waianuenue Avenue in Hilo.
Police are still looking for Quilasing. He is described as being 5-foot-8 in height, weighing about 145 pounds and having short black hair and brown eyes. Quilasing is considered dangerous and should not be approached.
Anyone with information on the whereabouts of Quilasing is asked to call Detective Robert Wagner of the Hilo Criminal Investigation Section at 961-2380 or the police non-emergency number at 935-3311. Those who wish to remain anonymous may call Crime Stoppers at 961-8300 in Hilo or 329-8181 in Kona. All Crime Stopper information is kept strictly confidential.
# # #

Print This Post