HAWAII POLICE DEPARTMENT
EAST HAWAII CRIMINAL INVESTIGATIONS DIVISION
CAPTAIN CHADWICK FUKUI
PHONE: 961-2251
JUNE 26, 2005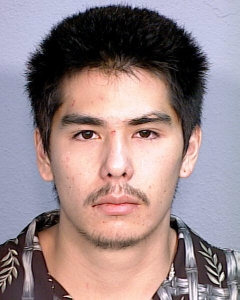 MEDIA RELEASE
A 19 year old man was arrested and charged with a variety of offenses stemming from a domestic dispute that occurred on Saturday afternoon (June 25, 2005), at a family residence in the Puna district.
The male suspect was identified as James Hokuwelowelo Inada, 19, of Fern Forest.
Inada was arrested after Puna patrol officers responded to a report of a domestic dispute at a residence in the Fern Forest Subdivision. Upon arrival, both officers confronted Inada who was standing in the driveway area fronting the residence. Officers observed Inada to be in possession of a .357 magnum revolver, tucked in his belt, several knives, and a lit "Molotov cocktail" device . After making threats towards the officers, Inada threw the lit device at the officers, however, a fire extinguisher was used to put out the fire, rendering the device safe. Officers subdued Inada with pepper spray, and placed him under arrest.
Officers learned that Inada and his 19 year-old girlfriend were arguing, when Inada's 54 year-old father intervened. Inada allegedly brandished a knife and threatened his father with the knife. A struggle ensued between Inada and his father. The 19 year-old female assisted the elder Inada, and was able to disarm the suspect, however, she was punched and bitten by the suspect in the process.
During the struggle, the suspect relinquished the knife, however retrieved a .357 magnum revolver from the within the residence. Police later learned that the revolver was unloaded. In addition to the firearm, Inada was found to be in possession of 16 knives when he was arrested by police.
On Sunday afternoon (June 26, 2005), East Hawaii Criminal Investigation Section detectives charged Inada with two counts of Attempted Assault in the First Degree, Terroristic Threatening in the First Degree, Place to Keep a Firearm, Use of a Firearm in Commission of a Separate Felony, and Abuse of a Family or Household Member. He is being held in the Hilo police cellblock in lieu of $28,000 bail.
Both police officers were uninjured in the incident.
# # #

Print This Post