HAWAII COUNTY POLICE DEPARTMENT
HILO CRIMINAL INVESTIGATION SECTION
CAPTAIN JAMES DAY
PHONE: 961-2255
DECEMBER 24, 2001
MEDIA RELEASE
The investigation initiated on December 23, 2001, for an assault on Franklin Matias, M-29, which occurred on Ohai St., has been reclassified to an Attempted Murder.
The suspect, for the assault on Matias, was identified as Dion J. Alvarez, M-18, of an Ohai St. address. Alvarez fled the scene after the attack and police are looking for him. He may be traveling in a white 2-door passenger sedan, possibly an Oldsmobile. Alvarez is considered dangerous and the public should make no attempt, to detain him.
Anyone with information regarding this incident, or to the whereabouts of Alvarez is asked to contact Detective Jeremie Evangelista at 961-2377.
Those who wish to remain anonymous may call Crime Stoppers at 961-8300 in Hilo or 329-8181 in Kona. The numbers are answered 24 hours a day. Callers will be given a coded number and their identity will remain anonymous. Callers may be eligible for a reward of up to $1,000 if their call leads to an arrest, indictment or the recovery of property. Crime Stoppers neither subscribes to "caller ID," nor does it record phone calls.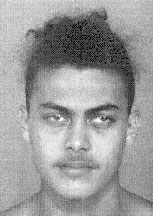 # # #

Print This Post