HAWAII POLICE DEPARTMENT
CRIMINAL INVESTIGATIONS SECTION
LIEUTENANT RANDALL MEDEIROS
PHONE: 961-2252
APRIL 3, 2007
REPORT NO. C07010672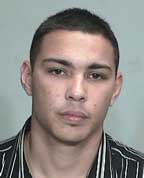 Kananialika Abadilla
charged federally with terroristic threatening
MEDIA RELEASE
Big Island Police have arrested a Hilo man in connection with a shooting just before midnight on March 29 outside a bar in the Hilo Industrial Area.
A 23-year-old man reported to police that he was threatened by a man who brandished a firearm and then fired a single shot near him. Additional patrons of the drinking establishment were in the area, but no one was physically injured in the shooting. The suspect was said to have fled the area on foot.
On Sunday (April 1), acting on a tip from an acquaintance of the suspect, 23-year-old Kananialika Abadilla was arrested for first-degree terroristic threatening. South Hilo patrol officers took him into custody without incident near the Banyan Drive peninsula.
Detectives assigned to the Criminal Investigations Section continued the investigation and conferred with federal law enforcement officials to seek federal prosecution. On Tuesday afternoon (April 3), police relinquished custody of Abadilla to special agents with the Bureau of Alcohol, Tobacco and Firearms. Abadilla will be taken to the federal detention center on Oahu and will appear before a federal magistrate on a federal weapons violation.
# # #

Print This Post