HAWAII POLICE DEPARTMENT
CRIMINAL INVESTIGATIONS DIVISION, AREA II
CAPTAIN ROBERT HICKCOX
PHONE: 326-4646, EXT. 263
DECEMBER 22, 2006
REPORT NO. C06039856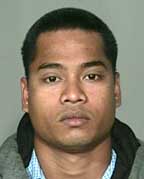 MEDIA RELEASE (UPDATE NO. 2)
Detectives from the West Hawaii Criminal Investigations Section charged Steven Galyinug, 23, of Kalaoa for the December 20 shooting of a 32-year-old man during an altercation at a shopping complex parking lot in Kona.
As a result of the investigation, detectives determined that Galyinug and the victim, Victor Rivera, had a verbal confrontation and Galyinug pulled out a handgun and fired several shots at Rivera as Rivera attempted to flee. Rivera sustained an injury to an ear and a gunshot wound to his back.
Upon arrival at the scene, Kona patrol officers arrested Galyinug and another man. The second man was later released pending further investigation
Rivera is confined to Kona Community Hospital in guarded condition and is expected to recover from his injuries.
Galyinug has been charged with attempted murder, use of a firearm in the commission of a felony. ownership or possession prohibited, permit to acquire a firearm, registration mandatory and place to keep firearm.
He is being held at the Kona police cellblock in lieu of $100,000 bail pending his initial court appearance.
Detectives are continuing their investigation and are asking anyone who may have information about the shooting to call Detective Zachary Houchin at 326-4646, extension 262.
Persons who prefer to remain anonymous may call Crime Stoppers at 329-8181 in Kona or 961-8300 in Hilo. All calls to Crime Stoppers are kept confidential.
# # #

Print This Post