HAWAII POLICE DEPARTMENT
EAST HAWAII CRIMINAL INVESTIGATION DIVISION
CAPTAIN CHADWICK FUKUI
PHONE: 961-2251
JULY 2, 2005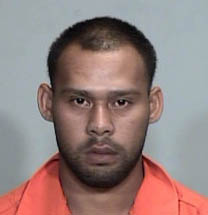 MEDIA RELEASE UPDATE
Police have charged a 26 year-old male for a variety of offenses stemming from an incident that occurred early Friday morning (July 1, 2005).
On Saturday (July 2, 2005), Hawaii Police Department Criminal Investigations Section, Area I detectives charged Ryron Lloyd Pia with one count of Attempted Murder in the First Degree, a Class A felony, two counts of Attempted Murder in the Second Degree, a Class B felony, two counts of Assault in the First Degree, a Class B felony, and one count of Attempted Sexual Assault in the First Degree, a Class A felony.
Detectives reclassified the previous assault cases after determining that both victims initially sustained life-threatening injuries as a result of the attack and that more than one person was victimized in the same incident. Bail for Pia was set at $320,000.00.
On the night of the incident, Puna Patrol officers responded to a report of two stabbing victims at a residence on Route 132, Pahoa, Hawaii. The officers found the victims at a nearby residence, both with apparent stab wounds. Police were able to determine that the victims had been stabbed by Pia at about 2:30 a.m. when the female victim awoke and found Pia attempting to sexually assault her and was stabbed when she resisted. The male victim woke up and confronted Pia at which time a physical altercation took place and the victim was stabbed as a result. A weapon was recovered at the scene by police.
Both victims were transported to the Hilo Medical Center emergency room by Hawaii Fire Department Rescue personnel, where they underwent surgery for the severe wounds and are presently confined. The male victim is listed in guarded condition. The female victim is listed in stable condition.
Pia was taken into custody by responding patrol officers and still remains in custody at the Hilo cellblock.
# # #

Print This Post