HAWAII COUNTY POLICE DEPARTMENT
TRAFFIC SERVICES SECTION
SERGEANT RANDY K. APELE
PHONE: 961-2305
MAY 19, 2003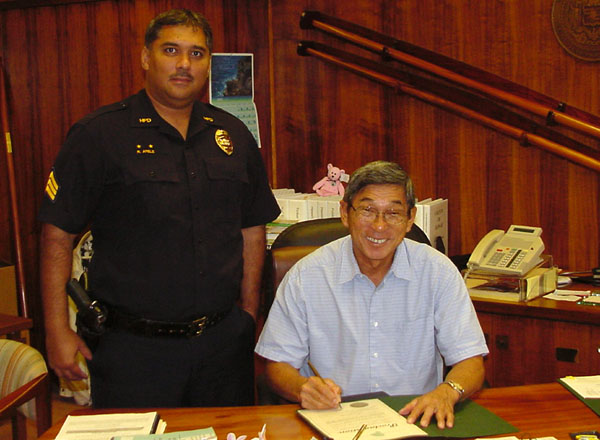 BUCKLE UP WEEK–Mayor Harry Kim signs a proclamation declaring May 19-26, 2003, as "Buckle Up America Week" in Hawaii County. Sergeant Randy apele of the Traffic Services Section looks on.
MEDIA RELEASE
Mayor Harry Kim has declared the week of May 19-26, 2003, as "Buckle Up America Week" on the Big Island.
The mayor signed the proclamation Monday (May 19, 2003) in his office.
The proclamation notes that 28 people died on Hawaii County roadways last year and about "half would still be alive if they had worn their seat belts."
It also notes that the Hawaii County Police Department will be conducting a seat belt campaign based on both enforcement and education to encourage drivers and their passengers to buckle their seat belts.
More than 12,000 law enforcement agencies nationwide, including the police departments of Hawaii's four counties, have joined the campaign to get out the message "Click It or Ticket" in an effort to encourage people, especially young people, to buckle up.
"The only proven way to get significant increases in belt use among young people and ultimately save lives, is through high visibility enforcement, including targeted and intense advertising to alert people to the enforcement," said Sergeant Randy Apele, head of the Hawaii County Police Department's Traffic Services Section.
According to the National Highway Traffic Safety Administration, 5,341 persons from the ages of 16 to 20 died in traffic crashes in 2001. Statistics show that fatality rates for teens are twice that of older drivers and the risk of crashes for teens is four times that of older drivers. Two out of five deaths among teens are the result of traffic crashes.
During the national "Click It or Ticket" campaign, Big Island police will intensify efforts to enforce safety belt laws and child passenger safety laws by increasing checkpoints and other measures, Apele said. Drivers failing to restrain themselves and their passengers will be ticketed, he added.
"Enforcement gets people to buckle up," Apele said. "Seat belt use in states that conduct high visibility enforcement is 10 to 15 percent higher than in states that simply conduct public education.
"If every state conducted high visibility enforcement, we would save 5,000 to 7,000 lives each year nationwide."
# # #

Print This Post