HAWAII POLICE DEPARTMENT
EAST HAWAII CRIMINAL INVESTIGATION SECTION
ACTING LIEUTENANT GREG ESTEBAN
PHONE: 961-2384
NOVEMBER 9, 2005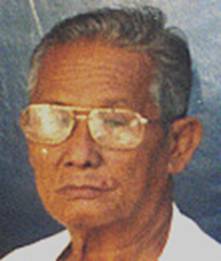 MEDIA RELEASE
Big Island police located an 80-year old man who has been reported missing from his Kalihi St. address on Oahu since November 1, 2005.
Ceriaco Tanudtanud of a Kalihi address on Oahu was located at a local hotel in Hilo and found to be in good health. A citizen called Big Island police after transporting Tanudtanud to the hotel where he was found. He was turned over to the Adult Protective Services from East Hawaii where he was to be reunited with his family who flew in from Oahu.
Tanudtanud was featured on a newscast on November 8, 2005 after Honolulu Police Department's Missing Persons Detail requested assistance from Hawaii Police Department detectives in locating Tanudtanud.
# # #

Print This Post