HAWAII POLICE DEPARTMENT
CRIMINAL INVESTIGATIONS SECTION
LIEUTENANT RANDALL MEDEIROS
PHONE: 961-2252
JUNE 27, 2006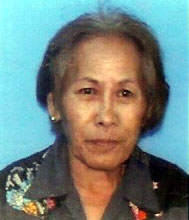 MEDIA RELEASE UPDATE #2
Hawaii County police are again asking for the public's help in locating a Puna woman who has been missing for more than a month.
Seventy-four-year-old Elizabeth Christensen was last seen near the Fern Forest Community association building on the afternoon of May 15, 2006. The Fern Forest woman was on foot and was wearing blue denim trousers, a yellow sweater and a blue jacket. She may be suffering from a mental disorder.
Although she was not with her dog when last seen, she is usually accompanied by a medium-sized brown dog with medium length fur and a red collar. The dog is unaccounted for and may be in Christensen's company.
The woman's family reported her missing on May 18. Early the next morning, a ground and aerial search was conducted by Fire/Rescue personnel and investigators from the police department, including a scent discriminating tracking dog. The all-day search did not yield any positive results.
Anyone with information about the woman's whereabouts is asked to call police at the non-emergency number, 935-3311. Tipsters who prefer to remain anonymous may call Crime Stoppers at 961-8300 in Hilo or 329-8181 in Kona. All Crime Stoppers information is kept confidential.

Print This Post