HAWAII POLICE DEPARTMENT
PUNA DISTRICT
COMMUNITY POLICE OFFICER JOHN BRISKI
PHONE: 966-5835
JUNE 30, 2006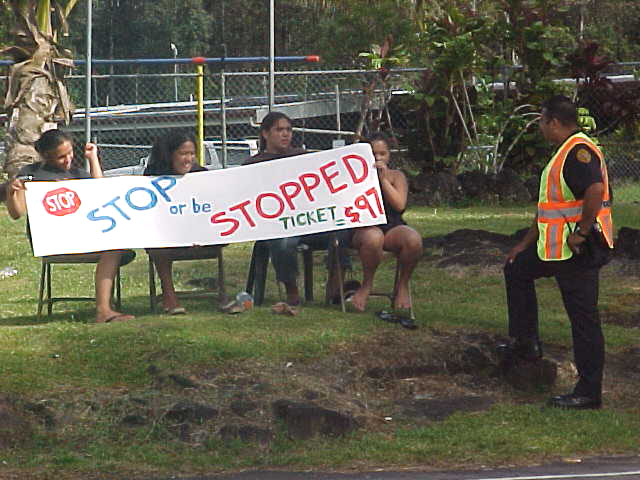 MEDIA RELEASE
Residents of the Nanawale Estates subdivision in Puna teamed up with police in June to remind motorists to stop at the four-way stop sign that runs through their community at the intersection of Nanawale Boulevard and Kehau Road.
Liz Salfen, manager of the Nanawale Community Association, said residents fought 12 years for that stop sign but now most drivers run right through it.
On June 9 and June 26 (2006) community volunteers and the Community Police Officer for the area displayed a banner at the intersection that read "STOP OR BE STOPPED TICKET=$97." They also passed out more than 250 fliers reminding drivers about the importance of stopping at the stop sign, which is located within a block of a preschool and right next to the community activity center, a bus stop and mail boxes.
Following both events, police reinforced the message by issuing citations to violators.
"It has been really effective," Salfen said. "Passing out the fliers gave them an appreciation for why we have the stop sign."
Community Police Officer John Briski said police and the volunteers plan to repeat the procedure when school starts after the summer break. "This collaborative effort is one way the citizens of Nanawale and the Police Department are making communities safer," he said. "It's gotten noticeably better since we did those two events."
# # #

Print This Post