HAWAII POLICE DEPARTMENT
HILO CRIMINAL INVESTIGATION DIVISION
CAPTAIN CHADWICK FUKUI
PHONE: 961-2251
JULY 2, 2005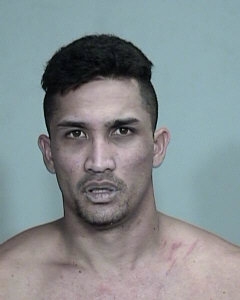 MEDIA UPDATE
Big Island detectives charged an inmate who escaped about two weeks ago (June 21, 2005) from the Hawaii Community Correctional Center (H.C.C.C.) on Punahele Street in Hilo for a variety of offenses.
On July 2, 2005, Kyle Keola Quilausing, 31, was charged for one count of Escape in the second degree, a Class C felony, one count of Unauthorized Entry into Motor Vehicle, a Class C felony, and three counts of Unauthorized Control of a Propelled Vehicle, a Class C felony. Bail for Quilausing was set at $50,000.00.
Police also arrested Fanny Pomaikai English, 18, for Theft, Second Degree (Auto). English was a passenger of the stolen vehicle which was being driven by Quilausing when stopped by police. English was released without charges.
Quilausing and Ludivico Lazo, 35, escaped from the H.C.C.C facility by tying bed sheets together, climbing up about 18 feet, and escaping through a window in the sunroof area of the facility. Both escapees were last seen heading down Waianuenue Avenue in Hilo. Lazo was arrested and charged earlier this week (June 27, 2005) after he turned himself in to police.
# # #

Print This Post