HAWAII COUNTY POLICE DEPARTMENT
WEST HAWAII CRIMINAL INVESTIGATION SECTION
DETECTIVE ZACK HOUCHIN
PHONE: 326-4646, EXT. 262
JANUARY 12, 2005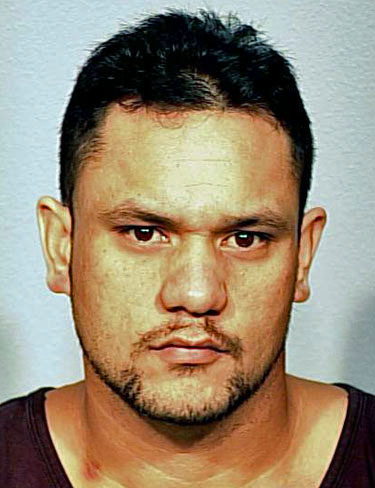 MEDIA RELEASE
Big Island police are asking for the public's help in locating a 27-year-old suspect wanted in connection with numerous felony offenses that occurred December 17, 2004, in Waikoloa, South Kohala.
The suspect was identified as Keith Keola Moniz, who is known to frequent North Kohala and the Waikoloa and Waimea areas of South Kohala.
Moniz is described as being 5-foot-11 in height, weighing about 210 pounds and having brown eyes and black hair. He has a large tattoo of Koi fish on his left upper arm and a maile lei over lettering on his back.
Police consider Moniz armed and dangerous and caution members of the public against approaching or attempting to apprehend him.
Anyone with information on his whereabouts is asked to call Detective Zack Houchin of the West Hawaii Criminal Investigation Section at 326-4646, Ext. 262, or the police non-emergency number at 935-3311.
Those who wish to remain anonymous may call Crime Stoppers at 961-8300 in Hilo or in 329-8181 in Kona. All Crime Stoppers information is kept strictly confidential.
# # #

Print This Post