HAWAII COUNTY POLICE DEPARTMENT
HILO CRIMINAL INVESTIGATION SECTION
LIEUTENANT DEREK D. PACHECO
PHONE: 961-2252
DECEMBER 7, 2001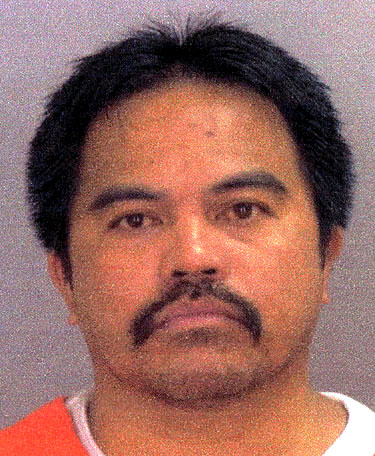 RANDY GALIMA
…sought in stabbing
MEDIA RELEASE
Police are looking for a 43-year-old Hilo man who allegedly stabbed a male victim Thursday (December 6, 2001) during an altercation at a Banyan Drive bar.
The suspect was identified as Randy Galima, a resident of the building in which the bar is located.
The victim, identified as Mark Lamont Dehl, 51, of Pleasanton, California, was reported in serious but stable condition after being treated at the Hilo Medical Center for stab wounds in his upper chest and abdomen.
Responding to a 9:32 p.m. call of a stabbing at the Shooters Bar & Grill on Banyan Drive, officers learned that the suspect and victim had gotten into an altercation shortly before the stabbing. By the time officers arrived, witnesses said the suspect had fled the scene in a car.
Galima is described as being 5-feet-3 in height, weighing about 195 pounds and having brown eyes and brown hair.
Police said the suspect is believed to be armed and dangerous.
Last March, Galima held police at bay for eight hours while holding an infant hostage. After a hostage negotiator had talked to him for eight hours to no avail, officers finally subdued him with pepper spray and rescued the child unharmed.
They are asking that anyone who knows of Galima's whereabouts not to approach him but to call Detective Duane Rapoza of the Hilo Criminal Investigation Section at 961-2377 or the police department's non-emergency number at 935-3311.
Those who wish to remain anonymous may call Crime Stoppers at 961-8300 in Hilo or 329-8181 in Kona. The numbers are answered 24 hours a day. Callers will be given a coded number and their identity will remain anonymous. Callers may be eligible for a reward of up to $1,000 if their call leads to an arrest, indictment or the recovery of property. Crime Stoppers neither subscribes to "Caller ID," nor does it record phone calls.
# # #

Print This Post