HAWAII COUNTY POLICE DEPARTMENT
HILO CRIMINAL INVESTIGATION SECTION
DETECTIVE DUANE RAPOZA
PHONE: 961-2377
DECEMBER 8, 2001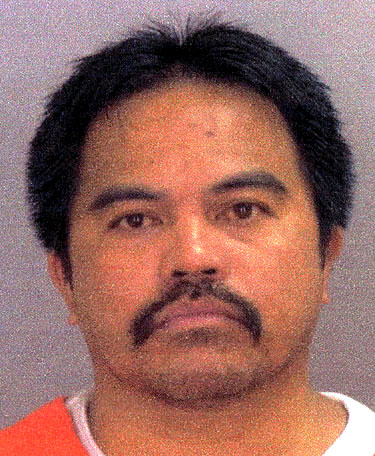 RANDY GALIMA
…arrested in stabbing
MEDIA RELEASE UPDATE
Police have arrested and charged a male suspect who was allegedly involved in a stabbing earlier this week in Hilo.
The suspect, Randy Galima, 43, was arrested without incident on Waianuenue Avenue at 8:30 p.m. Friday (December 7, 2001). At 2:25 p.m. Saturday, he was charged with one count of attempted murder and is being held in the Hilo police cellblock without bail.
The stabbing victim, identified as Mark Lamont Dehl, 51, of Pleasanton, California, was taken to the Hilo Medical Center for treatment of stab wounds in his upper chest and abdomen.
Galima allegedly stabbed Dehl Thursday during an altercation at a Banyan Drive bar. A resident of the building in which the bar is located, Galima escaped before police arrived.
Responding to a 9:32 p.m. call of a stabbing at the Shooters Bar & Grill on Banyan Drive, officers learned that the suspect and victim had gotten into an altercation shortly before the stabbing.
Last March, Galima held police at bay for eight hours while holding an infant hostage. After a hostage negotiator had talked to him for eight hours to no avail, officers finally subdued him with pepper spray and rescued the child unharmed.
# # #

Print This Post