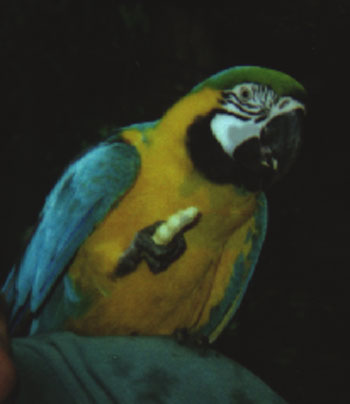 MACAW STOLEN — This is "Kua," a macaw parrot almost identical to the one stolen from the Hawaii Tropical Botanical Garden.
HAWAII COUNTY POLICE DEPARTMENT
SOUTH HILO PATROL
OFFICER E. PARANADA
PHONE: 961-2311
AUGUST 28, 2000
G-39762
MEDIA RELEASE
Police are looking for the thief or thieves who broke into the Hawaii Tropical Botanical Garden and stole a macaw parrot.
Investigators determined that the bird had been stolen sometime between 5 p.m. Friday, August 25, 2000, and 8 a.m. the following morning.
The bird was of two blue and gold macaws on display at the attraction, located on the Scenic Route at Onomea Bay north of Hilo.
The macaw, named "Hama," is described as being 8 1/2 to 9 years old, from 8 to 12 inches in height and 18 to 24 inches in length and having clipped wings. Garden officials said the parrot had learned to say "hello." It was valued at $1,550.
Officials said it appeared that the thief or thieves tried to steal a nearly identical macaw, named "Kua" that shared the same cage with "Hama," but the bird apparently got away.
Officials also said the stolen parrot more than likely would be squawking loudly and frequently because he was taken away from his usual roost.
Anyone with information about the theft or the identities of the thieves is asked to call Officer E. Paranada at 961-2311.
Those who wish to remain anonymous may call Crime Stoppers at 961-8300 in Hilo or 329-8181 in Kona. The numbers are answered 24 hours a day. Callers will be given a coded number and their identity will remain anonymous. Callers may be eligible for a reward of up to $1,000 if their call leads to an arrest, indictment or the recovery of property. Crime Stoppers neither subscribes to "Caller ID," nor does it record phone calls.
# # #

Print This Post