HAWAII COUNTY POLICE DEPARTMENT
OFFICE OF THE POLICE CHIEF
PHONE: 962-2244
JANUARY 20, 2005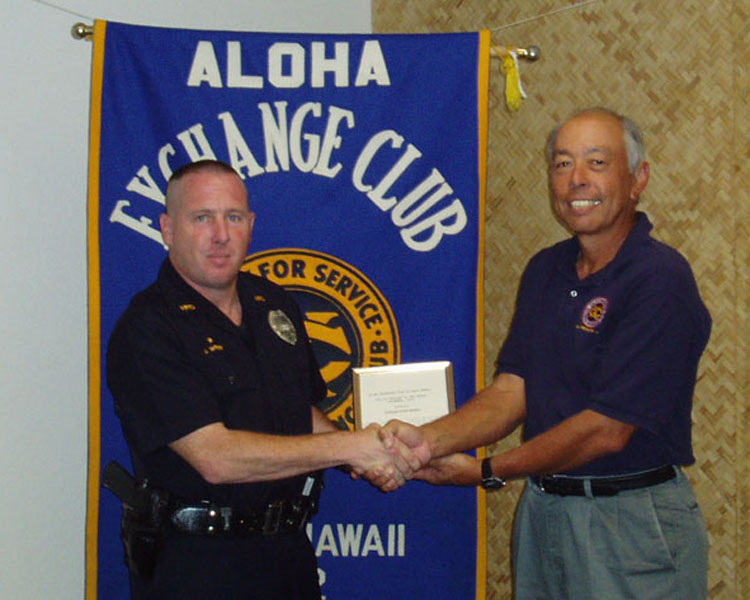 OFFICER OF THE MONTH – Puna Patrol Officer John Weber receives the Police Officer of the Month award from Joey Estrella, chairman of the Aloha Exchange Club of East Hawaii.
MEDIA RELEASE
Officer John Weber of the Puna Patrol District was named Police Officer of the Month for November 2004 by the Aloha Exchange Club of East Hawaii.
Weber received the award during a luncheon meeting Thursday (January 20, 2005) at Uncle Billy's Hilo Bay Hotel.
Nominated by Sergeant Darrell Huston, Weber was recognized for the apprehension of an Oahu fugitive who was wanted for assault and terroristic threatening and who had eluded Big Island police for more than two years.
Weber apprehended Timothy NcNeeley, 43, after making a traffic stop of a pickup truck belonging to one of the suspect's known associates. Checking the cab of the truck, the officer recognized McNeeley, who attempted to flee in the truck. Weber was able to follow the suspect to a Glenwood residence, where he arrested him.
Believing that contraband was in the truck and having probable cause, police were able to execute search warrant and recovered several firearms and narcotics. As a result, McNeeley faces possible federal prosecution as well as local charges for being a felon in possession of a firearm and felony narcotics charges.
# # #

Print This Post