Hawai'i Police Department
Office of the Chief
Harry S. Kubojiri
Phone: 961-2244
October 11, 2010
(See larger view here.)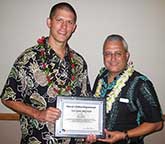 Officer Edwin Buyten (left) and Assistant Chief Henry Tavares display Buyten's 'Top Cop' certificate.
Media Release
The Law Enforcement & Security Coalition of Hawai'i has awarded the Hawai'i Police Department's 2010 "Top Cop" award to Officer Edwin Buyten.
Buyten, a Vice Section officer in Kona, was honored for a lengthy narcotics investigation that ultimately led to a sentence of jail and mandatory drug rehabilitation for the morphine supplier of a 31-year-old man who died from an overdose.
Detective Sherry Bird, who nominated Buyten for the honor, said the case sent a clear message that narcotics distributors will be held accountable for their illegal actions. "During the sentencing, the judge commented that in the five years she has served on the bench, she has never seen the complete circle of drug distribution, in this case the end of the circle being death," Bird wrote in her nomination papers.
Buyten received the award on October 5 at the 26th Annual Law Enforcement/Security Appreciation Luncheon at the Manoa Grand Ballroom on Oahu.
[Pronunciation guide: Buyten="BYE-tn"]
---

Print This Post