HAWAII COUNTY POLICE DEPARTMENT
TRAFFIC SERVICES SECTION
SERGEANT RANDY K. APELE
PHONE: 961-2305
OCTOBER 30, 2002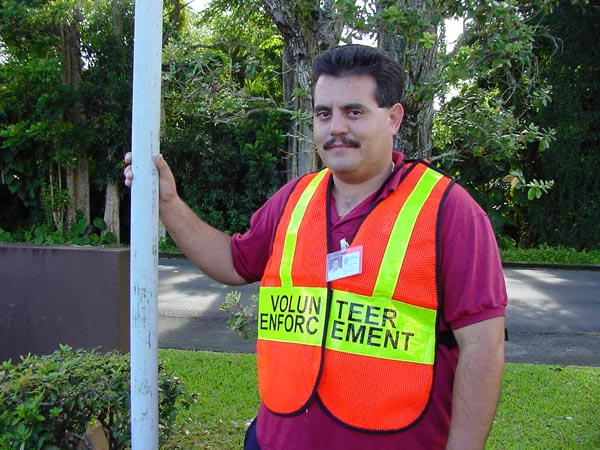 PARKING VOLUNTEER-Volunteers enforcing the law reserving parking spaces for the disabled will be easy to recognize. They will be wearing orange translucent vests with the words "Volunteer Enforcement" displaced on them.
MEDIA RELEASE
The Hawaii County Police Department will test a new pilot program using volunteers to enforce regulations reserving parking spaces for disabled persons.
Authorized by the Hawaii County Code, the six-month program initially will be tested in the South Hilo and Kona police districts.
Sergeant Randy Apele, head of the Traffic Services Section, said the program is designed to "enhanced access and the safety of persons with disabilities and valid parking permits for the disabled."
Under the program, specially commissioned volunteers will be authorized to issue citations for vehicles parked illegally in disabled parking stalls.
According to Section 291-57 of the Hawaii Revised Statutes, it's illegal to park in a space reserved for the disabled, unless the vehicle displays a "windshield placard, a temporary removable windshield placard or special license place."
The trained volunteers can be recognized because they will be wearing orange fluorescent vests displaying the words "Volunteer Enforcement." They will also carry identification cards carrying their name, identification number and photograph.
Starting November 15, 2002, the volunteers will be authorized to issue warnings to motorists who park illegally in spaces reserved for the disabled, Apele said. On December 1, 2002, the volunteers will start issuing actual citations, he said.
Violators are subject to a fine of $250 to $500 for each violation.
Apele said that anyone with questions about the program may call him during working hours at 961-2305.
# # #

Print This Post