HAWAII POLICE DEPARTMENT
CRIMINAL INVESTIGATIONS SECTION
LIEUTENANT RANDALL MEDEIROS
PHONE: 961-2252
NOVEMBER 27, 2006
REPORT NO. C06037040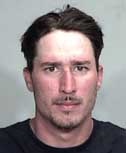 MEDIA RELEASE
Big >Island> police are asking for the public's help in locating a 26-year-old man wanted for escape.
Jeremy Lee Jacober has been on home detention since August 11, 2006, when he was sentenced to 120 days of home detention for a misdemeanor. He was to be monitored electronically by personnel at the Hawaii> >Intake> >Service> >Center of the Department of Public Safety.
Upon learning of a change in his living arrangements on September 21, 2006, Intake> >Service> >Center staff ordered Jacober to report to their office immediately. He failed to do so and has not been seen or heard from since.
Jacober is described as Caucasian, 5-foot-9, 150 pounds with a slim build, hazel eyes and short brown hair.
While police do not consider him dangerous, they advise the public not to approach him.
Anyone who sees Jacober or has knowledge of his whereabouts is asked to call Detective Uwao Chartrand at 961-2382 or the Police Department's non-emergency number, 935-3311. Those who prefer to remain anonymous may call Crime Stoppers at 961-8300 in Hilo or 329-8181 in Kona. All Crime Stoppers information is kept confidential.
###

Print This Post