HAWAII POLICE DEPARTMENT
OFFICE OF THE POLICE CHIEF
LAWRENCE K. MAHUNA
PHONE: 961-2244
JANUARY 29, 2007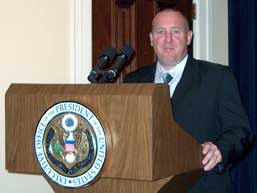 MEDIA RELEASE
The federal "Drug Czar" honored a member of the Hawaii Police Department at the White House this month for his work on the domestic cannabis eradication program.
Officer John Weber, who works in the Hilo Vice Section, received a distinguished service award from the Office of National Drug Control Policy, which operates out of the Executive Office of the President.
Its director, John P. Walters, is known as the nation's Drug Czar. Walters presented Weber with a citation and a plaque during a White House ceremony in the Old Executive Building on January 18. The citation recognizes Weber for his "professional achievement in the superior performance of his duties" last year.
During 2006, Weber initiated 27 search warrants for marijuana growing operations. The warrants led to 57 arrests; the seizure of 8,228 marijuana plants, 24 weapons, $35,000 in cash and three homes; and the eradication of 13 large indoor marijuana growing operations and 14 outdoor operations.
Weber serves as "Rappel Master" during marijuana eradication operations and has been directly involved in the eradication of 35,695 marijuana plants in Hawaii County and 2,400 plants in the U.S. territories of Guam and Saipan.
This was the second year in a row that a Big Island police officer received an individual award from the White House, which also handed out group awards to various law enforcement teams for their marijuana eradication efforts. Last year the White House honored Officer Robert Hironaka.
Hawaii Police Chief Lawrence Mahuna said he is proud of both Weber and Hironaka. "These officers are an asset to the Police Department and to our community," he said. "Their dedication epitomizes the department's core values of integrity, professionalism, compassion, teamwork and community satisfaction."
# # #

Print This Post