HAWAII POLICE DEPARTMENT
SOUTH HILO PATROL
CAPTAIN KENNETH VIEIRA
PHONE: 961-2214
SEPTEMBER 21, 2006
REPORT NO. C05000663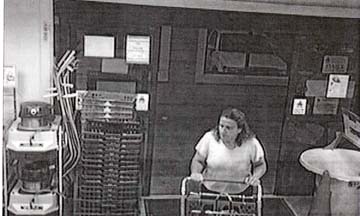 MEDIA RELEASE
Big Island police are asking for the public's help in identifying a woman captured on a security surveillance video.
Police are seeking the woman in connection with a theft and forgery case.
A Mountain View woman reported that her purse was stolen from a Hilo shopping center on January 10, 2005.
The next day the victim's credit card was used during a purchase at a Waimea supermarket.
A woman suspected of forging the victim's name during the purchase was captured on videotape. Police ask anyone who knows her identity to call Officer Robert Panem at the Police Department's non-emergency number at 935-3311.
Tipsters who prefer to remain anonymous may call Crime Stoppers at 961-8300 in Hilo or 329-8181 in Kona. All Crime Stoppers information is kept confidential.
# # #

Print This Post