Hawai'i Police Department
South Hilo Patrol
Sergeant Michael Santos
Phone: (808) 935-3311
Report No.: 21-074600
Media Release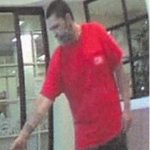 Hawaiʻi Island Police are asking for the public's help in identifying a person of interest in a theft investigation.
Police seek to identify a male party that is wanted for questioning in a theft of money from another customer, which occurred on 09/07/2021 at a Hilo financial institution. The male party in question was reported to be operating a black-colored, two-door sedan.
Anyone with information regarding the identity of this male party is asked to call the Hawaiʻi Police Department's non-emergency number at (808) 935-3311 or contact Officer Lisa Ebesugawa of Hilo patrol via e-mail at Lisa.Ebesugawa@hawaiicounty.gov.

Print This Post