HAWAII COUNTY POLICE DEPARTMENT
OFFICE OF THE POLICE CHIEF
PHONE: 961-2244
FEBRUARY 1, 2001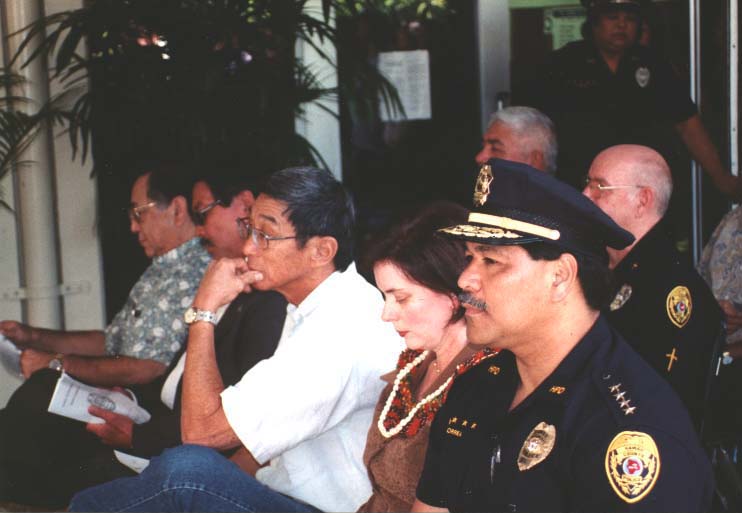 | | |
| --- | --- |
| | FRONT ROW-Above, Police Chief James S. Correa, at right, his wife, Adeline, Mayor Harry Kim, Police Commission Chairman Wilfred M. Okabe and County Council Chairman James Y. Arakaki watch the swearing-in ceremonies. At left, Chief Correa addresses teh crow of well-wishers attending the swearing-in ceremonies. |
MEDIA RELEASE
James S. Correa was sworn in as the eighth police chief of Hawaii County during public ceremonies held Thursday (February 1, 2001) on the lanai of the Public Safety Building in Hilo.
Mayor Harry Kim swore in Correa, 47, as his wife, Adeline, and son, Officer James K. Correa, stood at his side.
Correa, a 26-year veteran, had previously been sworn in during a private ceremony held on January 23, 2001, in the mayor's office.
In remarks made to a crowd of more than 100 well-wishers attending the ceremonies, Correa said "it isn't enough to keep things moving smoothly, though it is often hard enough, the people who get things done are the people who always want to get things done better."
"This is what I will strive to inspire in our department — to try to improve the quality of life in our community."
"I stand here before you today and ceremonially restate my oath. I wear my new shield, 'Police Chief, Number One,'" Correa said. "This shield shines and is not scratched or dented. This shield comes with a legacy of integrity and devotion to duty which was earned by all police chiefs in law enforcement.
"I will diligently work hard toward fulfilling my duties so that I can someday pass this shield on with even a brighter shine."
In his remarks before swearing in the new police chief, Mayor Kim noted that as the county's previous Civil Defense administrator, he wanted the agency to be "the best in the world."
As mayor, he said, "I want the county government of Hawaii to be the most truthful government in the United States, bar none."
Kim said when he told Correa he wants to "win the trust and confidence of the people," Correa replied, "We can do it, Harry."
Major Charles M. Chai, head of the Administrative Services Division who acted as master of ceremonies, noted that the Hawaii County Police Department was established in July 1943.
"In the 57-year history of our department, the next chief will become only the eight chief of this proud organization."
The former chiefs were:
Chief George Larson Jr. — 1943 to 1948.
Chief Anthony R. Paul — 1948 to 1969.
Chief George A.K. Martin — 1969 to 1970.
Chief Ernest J. Fergerstrom — 1970 to 1976.
Chief Guy A. Paul — 1976 to 1988.
Chief Victor V. Vierra — 1988 to 1994.
Chief Wayne G. Carvalho — 1994 to 2000.
# # #

Print This Post