HAWAII COUNTY POLICE DEPARTMENT
KONA PATROL DIVISION
OFFICER TYSON MATSUMURA
PHONE: 326-4646
DECEMBER 27, 2001
G-78402
G-89560
MEDIA RELEASE UPDATE
The Kona Patrol Section is seeking the public's help in their investigation of THEFT of three ATV'S taken from the Hokulia Golf Course Project on 08-23-01 and 12-08-01.
The ATV'S are described as follows:
1. 1999 TRX 400, red Honda ATV, model Foreman, vin: 478TE2000X4007076; engine serial number 8408881.
2. TRX 400 FWI, green Forman ATV, vin: 478TE200514200434; engine serial number 8500381, with a drop rack on rear.
3. TRX 350 FEY, green Rancher ATV, vin 478TE2546YA017809, no engine serial number, with a drop rack on rear.
Anyone with information about the thefts is asked to call Kona Patrol Officer Tyson MATSUMURA at 326-4646.
Those who wish to remain anonymous may call Crime Stoppers at 329-8181 in Kona or 961-8300 in Hilo. The numbers are answered 24 hours a day. Callers will be g iven a coded number and their identity will remain anonymous. Callers may be eligible for a reward of up to $1,000 if their call leads to an arrest, indictment or the recovery of property. Crime Stoppers neither subscribes to "Caller ID" nor does it record phone calls.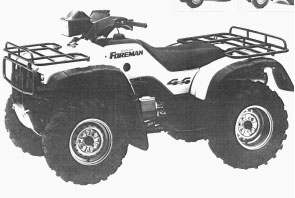 # # #

Print This Post