HAWAII COUNTY POLICE DEPARTMENT
POLICE COMMEMORATIVE TOURNAMENT
DETECTIVE GREG ESTEBAN
PHONE: 961-2384
JUNE 1, 2004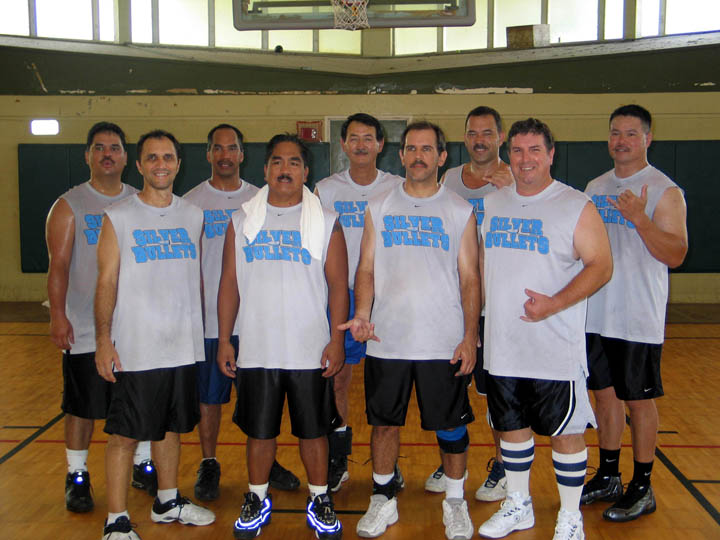 MEDIA RELEASE
The "Silver Bullets" won the Golden Masters Division in the 2004 SHOPO State Police Basketball tournament.
The tournament was played at the Manoa District Park Gym on Oahu on May 27-29, 2004 and included law enforcement officers throughout Hawaii. There were 4 Divisions, which included Open (any age), Masters (35-up), Golden Masters (42-up) and Novice.
Both "Bay City Blues" of the Open Division and "Bay City Blues" of the Masters Divisions won their games in the opening rounds, but were eventually ousted during the double elimination format.
In the Golden Masters Division, the "Silver Bullets" swept through the tournament undefeated and beat Oahu's "Team Hawaii" 31-27 in the championship game. "Silver Bullets" were led by the dominating inside play of Uwao Chartrand, the hot shooting of Tom Poy and the strong rebounding of Greg Esteban.
Making the Golden Masters All Tourney Team was Chartrand, who was also selected as Tourney Most Valuable Player. Joining Chartrand on the All Tourney team was "Silver Bullet" teammate Esteban. Members of the championship team were Chartrand, Esteban, Poy, Tommy Waltjen, Robert Wagner, Prentiss Moreno, Louie Ondo, Kaleo Perez and team captain Paul Silva.
In the Masters Division, "Bay City Blues" finished a strong third place. Jim O'Connor was named to the All Tourney Team. Members of the Masters Division team were O'Connor, Randy Apele, Walter Ah Mow, Rollins Rabara, Chartrand, Esteban, Poy, Waltjen and Wagner.
Members of the Open Division team were Brandon Konanui, Matt Kaaihue, O'Connor, Apele, Ah Mow, Rabara, Chartrand, Esteban, Poy, Waltjen and Wagner.
# # #

Print This Post