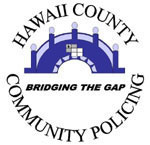 ---
Mission
To form a partnership with the community in order to create a safe and secure environment.
---
Community Policing Responsibilities
Community Police Officers are responsible for developing partnerships within the community in an effort to create a safe and secure environment. This can be accomplished through community mobilization, crime prevention efforts and problem solving (i.e., Neighborhood Watch, Citizen Patrol, etc.). Through mobilization, Community Police Officers can facilitate a community's efforts to create positive changes within their neighborhood.
---
School Resource Officers
The School Resource Officer (SRO) program was established on the Big Island in 2003. It is a collaborative effort by law enforcement officers, educators, students, parents and the community to offer law-related educational programs in the schools in an effort to reduce crime, drug abuse, violence and provide a safe school environment.
The SROs deal with crime on campus, teach informative classes to students, provide law related counseling and are liaisons between the school and the Police Department. Most important, they are positive role models.
These are the SROs and their assigned schools:

Hilo Intermediate School
(Vacant)
Waiākea Intermediate School
Officer Murray Toledo
Honokaʻa High and Intermediate School
Officer Blake Ragocos
Pāhoa High and Intermediate School
Officer Joseph Picadura
Keaʻau Middle School
Officer Dustin Sampaga
Konawaena Middle School
Officer Michael Abran
Kealakehe Intermediate School
Officer Joel Furuto
Waimea Intermediate School
Officer Edward Lewis
---
HI-PAL (Hawaiʻi Isle Police Activities League)
The HI-PAL program was established on the Big Island in 1980. It provides social and athletic activities for the youth of Hawaiʻi between the ages of 5 and 17.
HI-PAL comes under the jurisdiction of each district commander, whose patrol and community police officers, with community member assistance, provide positive activities for youths that teach moral and social values, such as sportsmanship, fair play, respect for authority, self discipline and the benefits of hard work, all while having fun. HI-PAL also reaches out to youths who are considered "at risk" due to economic, geographical or social situations.
Learn more on our HI-PAL page.
---
Contact Information

Community Policing Coordinators
Hamakua, North Hilo, South Hilo, Puna
(808) 961-2350
North Kohala, South Kohala, Kona, Kaʻu
(808) 326-4646, Ext. 259
Community Policing Officers
South Hilo (808) 961-8121
Puna (808) 965-2716

North Hilo (808) 962-2120
Hāmākua (808) 775-7533
Kaʻū (808) 939-2520
Kona (808) 326-4646, Ext. 257 and 258
South Kohala (808) 887-3080
North Kohala (808) 889-6540
---
How To Organize A Home or Business Neighborhood Watch Program
Residents or businesses using the following steps can organize a Neighborhood or Business Watch Program:
Contact between law enforcement (Community Policing) and the neighborhood or business begins the process. The Community Police officer can provide information and offer guidance to all interested parties on how to set up the program.
The group will be asked to conduct a survey as a means of determining community problems and/or major issues of interest to the community.
The interested group is asked to host a meeting to:
Review identified problems.
Focus on crime issues in the neighborhood or business area.
Help the community develop strategies to deal with identified problems or issues.
Select a Coordinator and Block Captains.
Schedule the next meeting and develop plans for future meetings.
---
Other Programs
Has your home or business been burglarized? Have you been a victim of theft on numerous occasions? If so, you may wish to have a Community Police Officer advise you by conducting a home or business security check. These checks are conducted as a means of providing preventive measures that hopefully will lessen your chances of being victimized again. Community Police Officers are knowledgeable in Crime Prevention through Environmental Design. By preparing your environment properly, you can make your home or business safer.
Community-Traffic Awareness Partnership (C-TAP)
The Community-Traffic Awareness Partnership program is an activity involving a partnership with the police and communities to educate and encourage safe driving within designated neighborhoods. Community members hold signs warning motorists of the dangers of speeding in their neighborhood. A "Speed Board" display is used by the police to show motorists how fast they are going. Police will follow up weeks later with actual enforcement to ensure that motorists comply with the speed limit.
Problem Solving
Problem solving is one of the core components of community policing. The Hawaiʻi County Police Department encourages problem solving with communities in order to improve the quality of life and create safe and secure neighborhoods. Whether it is a traffic, criminal or nuisance problem, Community Policing Officers facilitate change within communities through the use of the SARA model of problem solving (Scan, Analyze, Response, Assessment). Through this method, communities can focus on the root causes of the problem, and be part of the solution. By working with the police, they have a direct impact on what types of solutions are implemented to solve problems and improve the quality of life within their communities.
For information on other programs, see section on Community Relations.
---
Home Invasion Prevention Tips
Home invasion is the residential version of automobile carjacking. Most home invasions occur at nights and on weekends when homes are more likely to be occupied. The people committing this type of crime rarely work alone and rely on an overwhelming physical confrontation to gain control and instill fear in their victims.
The same tactics used to prevent burglaries will go a long way toward preventing incidents of forced entry home invasion. If home invaders can be delayed at the point of entry, then there's a chance of deterring them and being able to call police.
Here are some prevention tips to consider:
Have a solid-core door for all entrance points.
Use a quality, heavy-duty deadbolt lock with a one-inch throw bolt.
Use a quality, heavy-duty, knob-in-lock set with a dead-latch mechanism.
Use a heavy-duty, four-screw, strike plate with three-inch screws to penetrate into a wooden door frame.
Use a secondary blocking device on all sliding glass doors.
Use anti-lift devices such as through-the-door pins or upper track screws.
Use highly visible alarm decals and beware of dog decals or neighborhood watch decals.
Secure all accessible windows with secondary blocking devices.
Make sure someone cannot reach through an open window to unlock a door or remove a blocking device.
Use anti-lift devices to prevent the window from being lifted out.
Secure windows at night and, if need be, leave only a slight opening for ventilation purposes.
Get to know your adjacent neighbors.
Agree to watch out for each others home.
Use motion sensor lights near or around key entry points.
Use good lighting along pathways to and from main entry points.
Make sure any exterior lighting allows for 10-foot visibility.
Make sure your alarm system has an audible horn or bell to be effective.
Instruct your neighbors how to respond to your alarm should it become activated.
Be sure to activate your alarm system before leaving home or before retiring for the evening.
Identify your valuables by engraving objects with a set of numbers that only you would know, make a list of the items and their numbers and keep the list in a safe deposit box or somewhere in your home.
Photograph items of value.
Photocopy the contents of your wallet and other important documents.
Do not keep the PIN for your credit cards or debit cards in the same place.
The best defense against home invasion type crimes is education and planning. Have a security plan devised so that there are escape routes out of your residence or a safe location within your home. This location should have a telephone so that you are able to alert the police. If an escape route is part of your plan, make sure that everyone in the household knows where to run and what to say.
If your home is invaded, be sure to keep a cool head. Do not scream, yell out, cry or attempt any violent confrontation. Do not attempt to run or escape unless you can do so without getting hurt or caught. Do exactly as you are told — nothing more or nothing less. Do not volunteer information unless asked to do so. Without being obvious, take some time to remember the best possible description of the suspects. Remember, safety for yourself and family is paramount in this situation.
To request a home security check, call the following Community Policing coordinator:
Hāmākua, North Hilo, South Hilo, Puna
Lieutenant Robert Almeida at (808) 961-2350
North Kohala, South Kohala, Kona, Kaʻū
Sergeant Joseph Stender at (808) 326-4646 ext. 259
---
"I am Neighborhood Watch"
I am S.A.R.A., a problem-solving model and CPTED, an environmental approach to crime prevention. I am committed to making Hawaiʻi a nice place to live! Be proud, be great, be still, and know I AM A NEIGHBORHOOD WATCH.
By Lieutenant James Sanborn
(Taken from a presentation given on April 27, 2002, at the "Solutions 2002: Neighborhoods in Action" Conference.)
I AM A NEIGHBORHOOD WATCH. My birth certificate is the date a community decides to have me. I am basically conceived to provide citizens an opportunity to address crime and the fear of crime that threatens their community's well being. Today's lifestyles can contribute to community isolation and weaken civic ties.
I am the opportunity for you and your neighbors to prevent or break this cycle, and in the process build your community into a safer, friendlier, and nice place to live.
I am a strategy that can be used for many things and involve lots of people. I have been successful in the communities of Leilani Estates, Ocean View, Kaumana Caves, and Kealakehe, to name a few. I can be found in rural areas, subdivisions, cul-de-sacs, agricultural areas, towns and cities. I am a strong and committed group of citizens wherever I am! I search for a "safe and secure" environment in every program or project I undertake and I am busy at this very moment building a better tomorrow today!!
I am a meeting at a government facility, church, school, business, or in someone's home, built with love and sweat. I am a farmer, a salesman, a retiree, a Christian, a Buddhist, a grandparent, a senior citizen, a teenager, and someone who's trying to be a contributing member of society after having chosen the wrong path in life.
I am a letter to a Council member, government agency, business, or neighbor pleading for assistance to address a problem impacting the community's quality of life. I am growing through all that I undertake.
I am never a loser!! I am about roles and responsibilities, communication, planning, training, mobilization, and seeking out resources. I am neighborhood and park cleanups, teen dances, home security checks, finding solutions to traffic problems, collecting toys, clothing and food items for the homeless, organizing after-school activities, helping crime victims, reclaiming playground areas from drug dealers, and task forces that influence policy-makers.

Print This Page