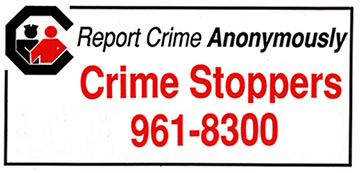 Make an anonymous tip through Crime Stoppers and you may be eligible for a reward of up to $1,000.
Call Crime Stoppers at (808) 961-8300 island wide. You will be given a code number to track the status of your case. By calling later and giving your code number, you can find out whether you qualify for a reward.
If the Crime Stoppers board of directors selects you for a reward, you will be directed to an agreed-upon location to pick up the money. You will never be required to provide your name. Crime Stoppers doesn't record any calls or subscribe to caller ID.
Crime Stoppers is a volunteer program run by ordinary citizens who want to keep their community safe.
Crime Stoppers on Nā Leo TV
Episodes of the Crime Stoppers TV Program are available on-demand from Nā Leo TV.

Print This Page