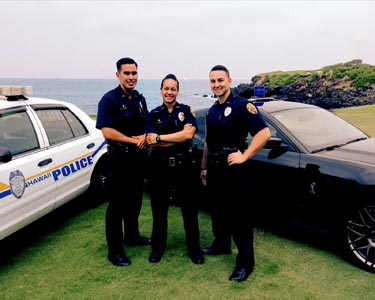 Hawaiʻi County is an Equal Opportunity Provider and Employer
The Hawaiʻi County Department of Human Resources periodically recruits applicants for police officers.
Our next recruitment for Police Officer I (Recruit) is Sunday, October 10, 2021, through Tuesday, October 19, 2021, at 11:59 p.m.

For further information and to complete an application:
Visit the Hawaiʻi County Job Opportunities page and create an account.
Fill out a Job Interest Card for a Police Officer.
---
Minimum Qualification Requirements
Training and Experience:
A combination of education and experience substantially equivalent to:
graduation from high school or equivalent (GED or HiSET); and
20 years of age by the closing deadline, (at least 21 years of age by the time of graduation from the Police Academy); and
possession of a valid State of Hawai'i Driver's License (Class 3) or any other valid comparable driver's license by the closing deadline. (You will be required to submit your driver's license during the Personal History Questionnaire phase with the Hawai'i Police Department); and
must be qualified to carry and/or possess firearm or ammunition in accordance with state and federal laws – no misdemeanor or felony domestic violence conviction.
Examinations:
Written examinations (two hour multiple-choice examination) will be held only on the Island of Hawai'i. Qualifying applicants will be allowed to self-schedule for various sessions scheduled and will be provided a notice to do so later in the process through our system.
Only the top 150 applicants with the highest written test scores + tie scores will proceed to the physical agility test. The physical agility test involves running an obstacle course in 70.00 seconds or less. Only one run of the course is allowed. This is a pass/fail test. Those who pass the physical agility test will be processed for further screening by the Hawai'i Police Department.
Knowledge of: grammar, spelling, and word usage.
Ability to: learn and explain laws, ordinances, and regulations; learn police principles, practices, methods, and techniques; follow oral and written instructions; deal courteously but firmly with the general public; learn the geography of the County of Hawai'i and the economic, social, and racial composition of the community; keep records and prepare simple reports; operate various office and other equipment and appliances.
Physical and Age Standards: Persons seeking appointment to positions in this class must meet the health and physical condition standards deemed necessary and proper to perform the essential functions of the position with or without reasonable accommodations. All candidates for employment as a Police Officer I shall be at least 20 years of age at the time of filing, and at least 21 years of age by the time of graduation from the Police Academy; have a correct ratio of weight to height; possess good eyesight and good physical condition and agility according to standards set by the County of Hawai'i.
Distant Vision – 20/20 binocular vision, with or without correction. Vision correction by soft contact lenses: Soft contact lens wearers must have 20/200 or better binocular vision before correction, corrected to 20/20. If selected, applicants must provide certification to the County Physician from an ophthalmologist/optometrist that he/she has successfully worn soft contact lenses for the past 3 months. Vision correction by other than soft contact lenses (e.g., glasses, hard contact lenses, semi-rigid contact lenses): Wearers must have 20/40 or better binocular vision before correction, corrected to 20/20.
Physical Effort Grouping: Special
---
Benefits
The starting salary for Police Officer I is $5,471.00 a month. Officers receive night differential pay and time and a half for holiday work and overtime.
Fringe benefits include:
Automobile allowance: $600.00/month.
Standard of Conduct Differential: $624.00/month.
Firearm Allowance: $1,000.00 per fiscal year.
Uniform Allowance: $300.00 per fiscal year.
Vacation: 21 days per year.
Sick Leave: 21 days per year.
Holidays: 13 days per year + general election day in an election year.
Medical, Vision, Prescription Drug, & Dental Plans.
Group Life Insurance.
Night Differential (6am-6pm): $0.55 per hour for each hour of actual work performed.
Membership Benefits: Membership in the County Credit Union, State of
Hawai'i Organization of Police Officers (SHOPO) union, the Flexible Spending Plan, and the State of Hawai'i Deferred Compensation Plan.
Retirement: Eligible to retire at age 55 with 30 years of police service in Hawai'i.
---
How to Apply
For more information on how to apply, go to the County of Hawaiʻi Job Opportunities web page.

Print This Page