Effective July 1, 2023, the County of Hawai'i has created an Animal Control and Protection Agency (ACPA). The County houses and performs Animal Control Services island wide.
Animal Control Facilities
On staff are an Animal Control Director, Animal Control Officers, and shelter staff who are strategically based on both the westside and eastside of the island. Animal Control Services currently maintains use of a County-owned facility in west Hawai'i and a County-owned facility in east Hawai'i, each with kennel staff caring and feeding the animals.
Plans are underway to make significant improvements to the east and west Hawai'i shelter locations, which are in need of repairs.
The care and well-being of animals at our facilities are of the utmost importance to Animal Control staff.
The shelters are open by appointment only to members of the public for the following reasons:
1. Verified pet owners or their authorized representatives who wish to redeem an animal and who have already provided valid proof of ownership with an Animal Control Officer.
2. Members of the public who have found a stray animal and wish to drop it off or have the animal scanned for a microchip. Sick, injured, dangerous animals or those posing a public safety risk are given priority as based on our public fact sheet (see below on this page.)
3. Approved transfer partners of ACPA who would like to view our available animal population for the purposes of rehoming them through their own non-profit organizations.
4. Volunteers of approved ACPA transfer partner organizations who are accompanied by a representative of the non-profit partner for the purposes of transporting the animal to their animal shelters or to the airport for a scheduled flight to another non-profit partner shelter. Additionally, volunteers who are participating in a transfer partners' veterinary program and are seeking classroom credit. *All volunteers are required to sign a waiver of liability.
To make an appointment to visit an Animal Control shelter, please call (808) 327-3558 and leave a message.
Animal Intake at Animal Control Facilities
Animal Control Services has been accepting all species of sick, injured, and healthy strays; dangerous animals, and owner surrenders, including feral animals and wildlife at both east and west Hawai'i locations since July 2021. The ACPA does not accept healthy feral animals, such as trapped cats, mongoose, or chickens to be euthanized for the purposes of population control. We do provide medical treatment for any species of injured animal.
The animals located at ACPA shelters are categorized as follows:
Animals being held as part of a police investigation, including confiscated animals under Hawai'i County Code (HCC 4-4);
Stray animals held for the mandatory 48-hour hold under HCC Section 4-4-21 (dogs and cats) and HCC Section 4-3-1 (other animals);
An animal whose owner(s) have been arrested, is deceased, or surrendered their animals.
How Long Does Animal Control Hold Animals?
Pursuant to Hawai'i County Code 4-4-21, the Animal Control and Protection Agency holds animals under its care for the required minimum period of 48 hours. The average length of stay for dogs is approximately 45 days and 52 days for cats. We take public safety seriously and perform humane euthanasia services for unredeemed animals that pose a public safety risk or cannot be medically rehabilitated. With limited space and staffing, we practice capacity for care rather than warehouse animals indefinitely, where their mental and behavioral health will decline in a shelter setting. Staff make conscientious and tireless efforts with our transfer partners to find positive dispositions for as many animals as possible.
Animal Control never turns away sick and injured animals. In Fiscal Year 2021-2022, Animal Control spent over $300,000 on medical treatments for animals coming into its shelters, including spay and neuter of animals being adopted through our transfer partners.
Our staff has been trained to provide emergency and triage care to injured and sick animals both in the shelters and in the field. We have a veterinarian on record, County-approved veterinary vendors, and our Animal Control Officers are equipped with animal first aid kits. Injured and sick animals are considered a Priority 1 and will receive immediate attention.
Once an animal is medically stabilized or deemed healthy, Animal Control will transfer the animal to one of its several transfer partner animal welfare non-profit organizations around the island where the animals can be fostered and adopted.
Public Viewing of Animals
It has been mandatory practice for previous vendors providing Animal Control Services for confiscated animals (dangerous animal, animal cruelty and neglect cases, owner arrests, deceased owner, etc.) and any stray animals under the mandatory 48-hour hold to not be accessible to the public for viewing. Animal Control houses a high number of dogs that were impounded under HCC 4-4-32 and are currently awaiting court proceedings. For the safety of the animal and the public, as well as case confidentiality, we are unable to allow for entry into these areas of our shelters.
Animal Control is focused on providing law enforcement services, not adoption counseling or fostering programs. Rather than compete for homes with our transfer partners already focused on screening limited numbers of applicants, we support their efforts by providing medical treatments, including spay and neuter services for all animals leaving our shelters. Our transfer partners regularly visit our shelter locations with standing weekly appointments to view available animals.
We must verify proof of ownership with the legal pet owner by collecting documentation the pet is truly owned by the claimant and in many cases, conduct conditions checks prior to redeeming the animal to determine it is safe to return. We utilize lost.petcolove.org, a highly efficient lost and found pet database that uses cutting-edge technology and facial recognition software. The site is used by hundreds of other shelters, including many on the Hawai'i Islands to help reunite animals with their owners. For steps to redeem your pet, please see section below "How to provide proof of ownership?"
Priority 1, 2, and 3 Calls
Calls received regarding Animal Control services are categorized as Priority 1, 2, or 3. Animal Control staff continue to respond to Priority 1 calls 24 hours a day island-wide. Since July 1, 2021, Animal Control staff have responded to 30-50 calls a day, of which, an average of 20 of those calls require an immediate response. Priority 1 calls include those for injured animals, any animal that is a public safety risk, animal cruelty, and situations in which an animal's owner has been arrested or died with no family to pick up the pet. Police ask that the public call Police Dispatch at (808) 935-3311 for Priority 1, or emergency requests for assistance.
For Priority 2 calls, those pertaining to lost or found pets and non-emergency issues, the public should call Animal Control staff at (808) 327-3558 or email at hpdanimalcontrol@hawaiicounty.gov. When leaving a message, please leave your name clearly, and repeat your contact information so that staff may contact you promptly. Staff answer the phones and return calls during normal business hours.
Priority 3 calls pertain to deceased animals on the roadway.
If people come across a deceased animal on a County road please call the Department of Public Works Highways Division at (808) 961-8349.
If the deceased animal is on a State Highway or road, please call the State Department of Transportation Highways Division at (808) 933-8866.
Actions You Can Take if You Find a Stray Animal or Lose a Pet
People who find healthy stray animals are encouraged to have the animal scanned for a microchip by a County of Hawai'i Animal Control Officer (call (808) 327-3558), at a veterinarian's office, or by a local rescue group. HPD has provided guidance to veterinarian offices on island about protocols regarding lost and found healthy animals. If a found animal is microchipped, veterinarians can try to find its owner by searching for microchip on www.my24pet.com.
People who find a healthy stray animal or who lose a pet are encouraged to post it as lost / found on https://lost.petcolove.org. Petco Love Lost is a new, searchable national database that uses patented facial recognition technology to make finding lost pets quicker and easier. This simple-to-use tool will be easily accessible to participating animal organizations nationwide, as well as any pet parent or person who finds a lost pet.
Uploaded photos of a missing dog or cat are immediately scanned to determine whether the lost pet is at a participating shelter or with a neighbor in the community. There are a handful of organizations across the island using this technology, including County of Hawai'i Animal Control Services. The technology scans photos at the shelters every two hours to reunite lost pets and their owners as quickly and efficiently as possible.
If someone finds a healthy stray animal, they can contact the Animal Control and Protection Agency at (808) 327-3558. Shelter capacity is still limited and averages 200 animals per day. However, ACPA has, and continues to, admit healthy strays as their capacity for care allows.
Animal Control takes a photo of stray and injured animals upon intake, which is automatically uploaded to lost.petcolove.org and refreshed every two hours seeking matches via facial recognition technology with lost animal reports. We encourage the public to use every available option to them, including social media. Confiscated animal photos are not shared with the public due to ongoing case proceedings. Should you be unable to access petcolove.org, you may contact the shelter for assistance.
How to Provide Proof of Ownership?
Any of the following pieces of information can be submitted to show proof of ownership when redeeming an animal from County of Hawai'i Animal Control Services.
Dog license registration *Renew every two years.
Microchip *Update your registration.
Vet records, such as vaccination and medical records.
Adoption or purchase records.
Tags – Keep on pet with collar. ID tag should have current phone and address.
Estate plans.
If you have shared custody, get a notarized copy of the pet agreement form showing who is responsible for the pet's care and ownership.
Photographs that are clear and show any distinguishing markings on your pet.
What to Do About Noisy Dogs?
Dog Licensing
Dog licensing is currently being managed by the County Finance Department, Vehicle Registration and Licensing Division. As of September 8, 2021, dog owners can download the dog license application on the County website, www.hawaiicounty.gov, under the Finance Department. Dog owners can mail the form, including the owner's name, mailing address, and dog's microchip number, along with license fee, to the Department of Finance, Vehicle Registration and Licensing Division, 101 Pauahi St, Suite 5, Hilo, HI, 96720. Dog license applications are only being processed by mail. Dog license fees have not increased and remain $2.10 for sterilized dogs and $6.10 for unsterilized. Those with questions about dog licensing can call the Department of Finance at (808) 961-8413.
Monthly shelter activity reports can be found below. Future reports will be posted as they are received. For additional information, you may contact the Hawaiʻi County Animal Control and Protection Agency at (808) 327-3558.
New Microchip Law for Pets
On Jan. 1, 2022, a new statewide microchip law went into effect. The law:
Requires owners of dogs and cats eight months and older, to have microchip identification implanted in their dogs and cats, and to register the microchip number and the owner's contact information with a microchip registration company. The national registry www.my24pet.com is a good site to register your pet's microchip.
Requires animal organizations to implant a microchip in all stray dogs and cats in their custody that do not have microchip identification.
Spay/Neuter Services
Recognizing that pet overpopulation is a substantial issue on Hawai'i Island, County Animal Control and Protection Agency ensures that those animals that are transferred to our partner agencies are spayed and neutered before they are available for foster or adoption.
Animal Control is Hiring
The Animal Control and Protection Agency is currently seeking experienced kennel techs, Animal Control Officers, and other positions in both east and west Hawai'i.
Click here to see the many different benefits you'll receive as a member of the Animal Control team and the minimum requirements to join. Click here to explore our exciting range of opportunities that enable you to make a difference in the community! Interested in applying? Submit a resume to HPDAnimalControl@hawaiicounty.gov and state which position you are applying for.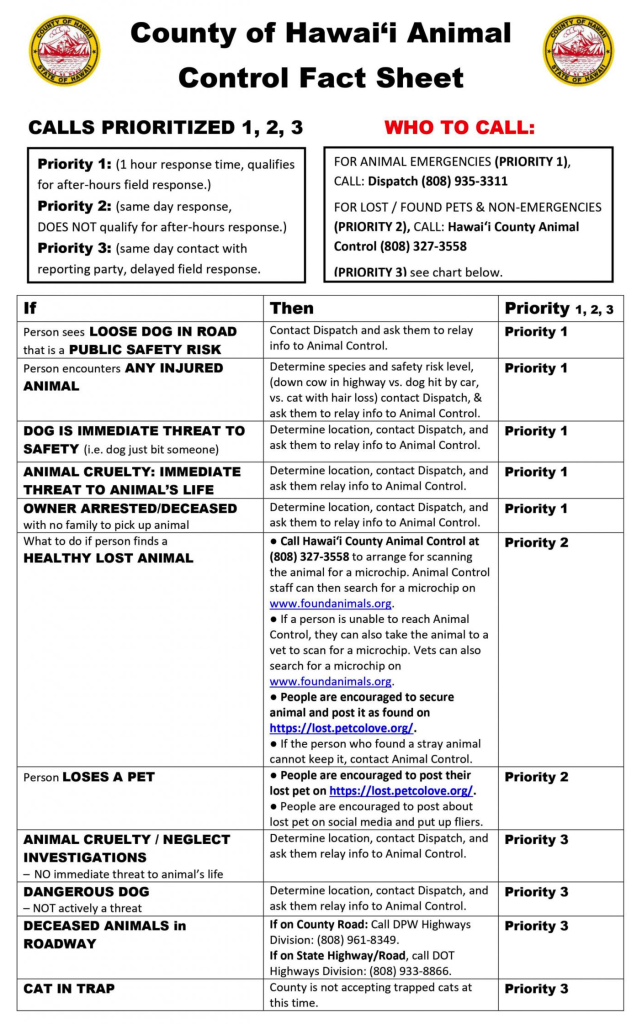 Shelter Animal Reports
2023
January | February | March | April | May | June | July | August | September | October | November | December
2022
January | February | March | April | May | June | July | August | September | October | November | December
Fiscal Year 2021-2022

2021
January | February | March | April | May | June | July | August | September | October | November | December
2020
January | February | March | April | May | June | July | August | September | October | November | December
2019
January | February | March | April | May | June | July | August | September | October | November | December
2018
January | February | March | April | May | June | July | August | September | October | November | December
2017
January | February | March | April | May | June | July | August | September | October | November | December
2016
January | February | March | April | May | June | July | August | September | October | November | December

Print This Page